They say "Good food can change your mood" and I believe in the same. Food can uplift anyone's mood. Imagine coming back from a hectic day at work or being in a cranky mood and someone serves you Garma-Garam Khana, doesn't it instantly bring a smile on your face and fills your heart with joy? It does, right! 🙂
When it comes to comfort food nothing can beat "Ghar ka Khana". No matter how much we crave for restaurant style food, we always come back to Ghar ka simple khana. If you have ever lived in a hostel, you will completely agree with me.
One thing that enhances the taste of any food is the masala we use. I have learned this from my Grand Maa as she always suggests to use good quality masala and fresh ingredients. If the ingredients and masalas are good, your dish will definitely turn out to be yum and soul satisfying
When Tata Sampann sent me this "Big Box of Goodness" – I was thrilled, excited and was keen on using them.
"Tata Sampann Masalas" are crafted with perfection and are intact with goodness. Each pack comes with 5 pouches so that you get fresh masala every time. Hygienic, quality guaranteed and are best in the market. Absolutely love this unique feature.
Another thing which I absolutely love about Tata Sampann Spices is, it's the only brand that sources best quality spices without removing any oils from them and hence the Masalas are of far superior quality. Super impressed with this feature as the flavor and smell you get from these Masalas are fresh, authentic and undiluted. To my surprise, I could actually sniff the authentic flavor. The smell takes you back to the fields and the Masala Gardens. It takes you back to your childhood memories, the times when you used to visit your Grand Maa. *Sigh*
*Wipes tears* and coming back to the recipe 😀
Since it was Diwali and I have so many fond memories etched to it. I live in a joint family and we have this tradition where everyone eats at our place. My Mom, Grand-Mom, Aunts cooks for everyone and they make sure it's a lavish meal. In our tradition, we prepare "Bhog" first and serve it to Lord Krishna. These are the things which I am learning from them and that makes me grounded to my roots.
Cooking for everyone has always been special to me, bringing back all those old beautiful memories and re-living with dishes prepared with Tata Sampann.
Paneer Tikka Pulav is one pot meal with the goodness of Paneer, it has got the perfect blend of flavors and fills your tummy in a jiffy. It tastes yum and has got a nice tadka of Paneer Tikka in it. If you are a vegetarian and a Paneer lover, you must already be drooling over this recipe. Simple and easy to make. Paneer Tikka Pulav gives a nice twist to your everyday Pulav.
Paneer marinated in thick yogurt and Tata Sampann spices have taken it to a new level. When I made this dish, I could actually smell the flavors, the goodness of masala, saffron thread soaked in water and the smell of basmati rice. Ah! Absolutely divine and blissful. Everyone in my house enjoyed the dish with freshly made raita.
Sharing a step-by-step recipe of how to make Paneer Tikka Pulav at home. Let's get started!
"Good food can change your mood" and when it comes to Ghar ka Khana, nothing can beat that. Paneer marinated in thick Yogurt and fresh-authentic Tata Samapann Masalas and cooked with rice. It's a one pot meal, easy to make and will be loved by all! It's time for Goodness Ki Shuruaat ❤︎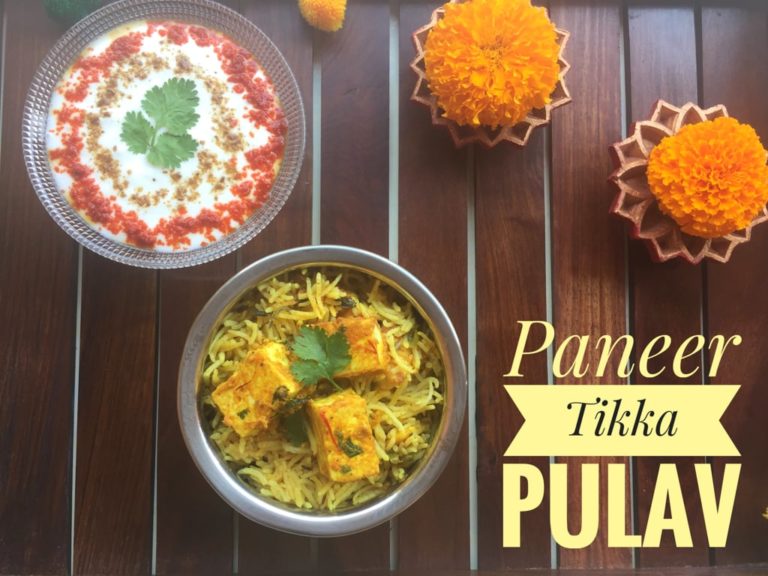 In a deep mixing bowl, take hung curd and whisk it using a whisker or a spoon. It should be smooth without any lumps.

To the whisked curd, add chopped coriander leaves, green chilies, and grated ginger.

Now add paneer masala powder, coriander powder, red chili powder, turmeric powder, cumin powder, and garam masala. Mix it well. This is the marination for the Paneer.

Now add salt and Paneer to this mixture. Mix it well.

Put a cling wrap over it and keep in the refrigerator for about 30 minutes- 1 hour.

After 30 minutes. Heat oil on a non-stick tava and cook the Paneer as we cook for Tikka. Cook from both the sides till you see a golden brown color. Keep it aside.

Meanwhile take Basmati Rice for the Pulav. Wash the rice under tap water for 2-3 times and soak in the water for 30 minutes.

Heat a pressure cooker on low flame. Pour ghee. Once the ghee is hot, add the whole spices i.e whole red chili, bay leaves, cloves, cardamom pods, cinnamon stick and cumin seeds. Let them cook for few seconds.

Now add the cooked paneer and the marinated masala if any. Put the soaked rice over it like a layer. Add salt on top of it. Mix it well.

Pour saffron strands mixed in water. Stir it nicely and finally, add water. Mix everything well.

Close the lid of the pressure cooker and let it cook on low flame for 1-2 whistle.

Once cool down, open the pressure cooker and toss it with light hands.

Serve it hot with any raita of your choice. I have made this raita with red chili powder, jeera powder, and salt. You can add dried pudina too

Tada! Paneer Tikka Pulav is ready to serve to your guests.
For more information you can visit Tata Sampann's website and like their Facebook page for more updates! 🙂
Happy Experimenting!
This is a sponsored post but all views stated above are mine.
Love
Divya