Rich-Creamy-Nutty!!! ❤️ – ButterScotch Ice cream is yummy and leaves you wanting more and more. It's one of my favorite because of the nutty texture it has.
Making ButterScotch Ice Cream at home is easy, simple and doesn't need much ingredients.  If you have seen my last recipe post, I have done a detailed, step-by-step recipe of "How to make Ice cream at home". It was the basic Ice cream/ Vanilla Ice cream recipe and you can add any flavor of your choice to that and then freeze. With the same Vanilla batch, you can make Chocolate or butter scotch or any fruit Ice cream of your choice.
Let's divide the recipe into parts.
Making Vanilla Ice cream – Just like in the earlier post, we have to make that fluffy base after beating with double beater. Obviously we don't have to freeze it. Before we freeze, add any flavor of your choice.
Adding Butterscotch nuts, essence and lemon yellow color.
Freezing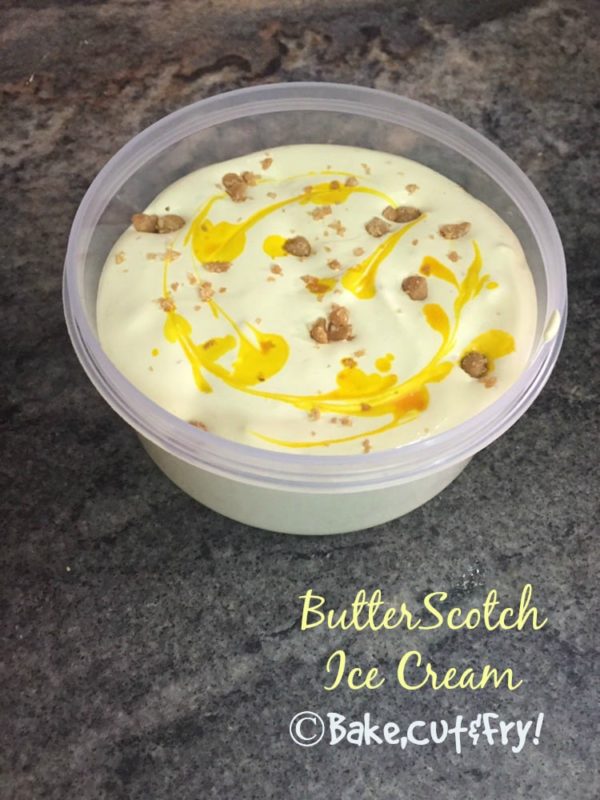 Vanilla Ice cream base as here

To this Vanilla base, add lemon yellow color and butterscotch essence.

Pour this to an air tight container and sprinkle Butterscotch nuts from the top. Stir and sprinkle some more nuts on the top.

Cover the container with aluminum foil and close the lid.

Freeze it in the freezer for 7-8 hours

Scoop it with a scooper and serve.
Tadaa! ButterScotch Ice Cream is ready to gulp! *Nom Nom*
Happy Cooking!!!