Jeera Rice is an Indian rice dish flavored with cumin/ jeera. If you are bored of eating normal rice, this is a nice twist to the same rice recipe.
Jeera Rice is one of the most popular dish in restaurants. The tempering of jeera gives it a nice flavor and aroma. You can have it with Dal Makhani or Dal Akhbari or Dal Tadka. This is a basic Jeera Rice recipe, anyone can make it as it requires less ingredients. It's a perfect for beginners or bachelors.
For this recipe, I have used only Jeera, but to make it more flavorful you can add more whole spices like cloves, cardamom pods, star anise. Since it is a basic recipe, I have kept it simple and easy.
Let's get started.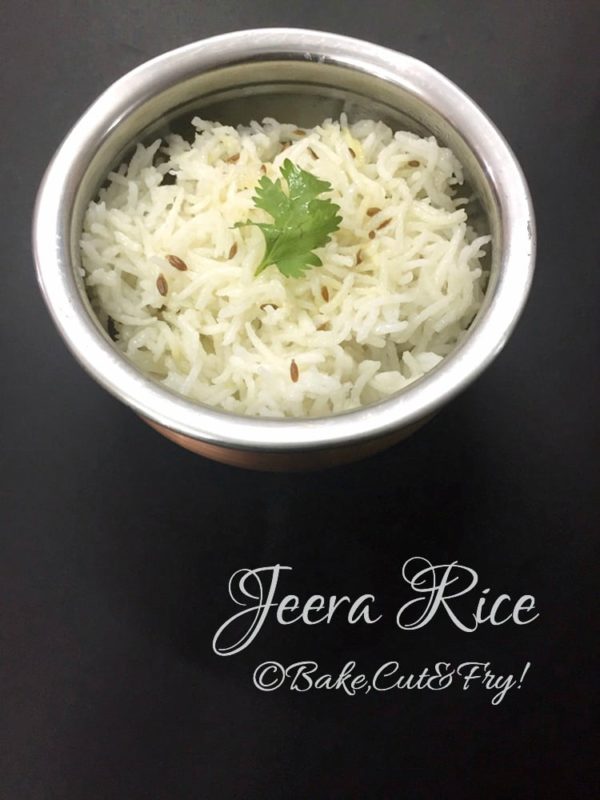 Wash basmati rice under tap water for 2-3 times and soak it in clean water ( 2 cups ) for 15 minutes.

Heat ghee in a pressure cooker add cumin seeds and let it splutter.

Now add rice along with the water we have soaked in. Add salt according to your taste. Stir well and close the lid of the cooker.

Cook on low flame till one whistle. Switch off the gas and let the cooker cool down.

Once cooled down, open the lid. Top it with ghee (optional) and coriander leaves.

Serve with Dal Makhani or Dal Tadka.