Yummy-Sinful-Decadent!
This recipe is a celebration in itself. The name says it all 😉
Intensely chocolatey, Ferrero Rocher truffle stuffed inside cupcakes are topped with a heavenly Nutella frosting. It's all finished off with Ferrero Rocher! *Drools*
If you know me and following my blog for a while, you might know I love baking. Its a stress buster for me and I absolutely love experimenting with the ingredients. Being a huge Nutella and Ferrero Rocher fan, I thought why not mix these and create something insanely yummy and decadent. These cupcakes are vegetarian and an egg-less recipe.
I bumped into Tarika's channel on Youtube and got this recipe. She is an amazing cook and a superb baker. Guys, do check out her Website and her Youtube Channel
This recipe is adopted by Tarika's recipe of Nutella-Ferrero Rocher Cupcakes, I have twisted a bit according to my preference. Check Tarika's recipe : here
Let's get started!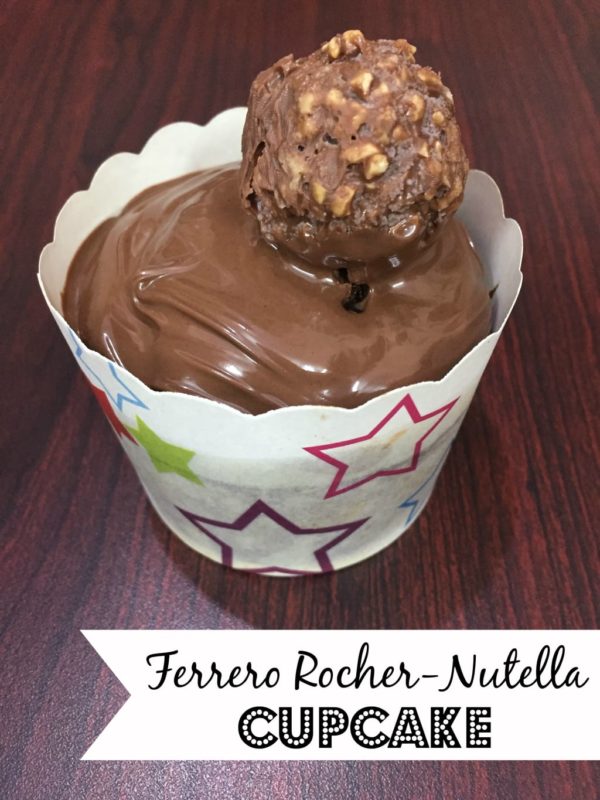 Warm the water (it should not be hot) and add cocoa powder to it. Wisk well. Keep it aside.

In a big bowl, sieve Maida.

To the same bowl, add powdered sugar and baking soda. Mix everything well.

Now add oil, vanilla essence and white vinegar.

Mix everything and now add the cocoa & water mixture we have made earlier.

Whisk so that no lumps are there.

The batter should be medium thick and not runny.

Take your cup cake moulds, I have these fancy big ones.

Pour a table spoon of the batter and place one ferrero rocher in between.

Now cover the ferrero rocher with 1 table spoon of batter.

Preheat the microwave at 180 degree for 5 minutes at convection mode.

Bake these cupcakes for 14-15 minutes at 180 degree at convection mode.

Once done, do the toothpick/knife test. If it comes clean, your cupcakes are ready.

Let them cool down, before we do the frosting.

Once cool down, cover the cupcakes with Nutella and top it with another Ferrero Rocher.

Tada! Cupcakes are ready to serve.
Notes :
# You can check the proper frosting on Tarika's Channel. I didn't have un-salted butter and that's why I went ahead with just Nutella and it tasted yumm too! 😛
Happy Cooking! Happy Baking.