Hello Everyone! 🙂
Marble Cake is a Cake achieved by blending two flavor batters- Vanilla and Chocolate. It looks absolutely amazing and has those swirl or marble effects. Loved by kids and its super easy to make. If you have got bored by your normal Vanilla cakes, do give this a try! 😀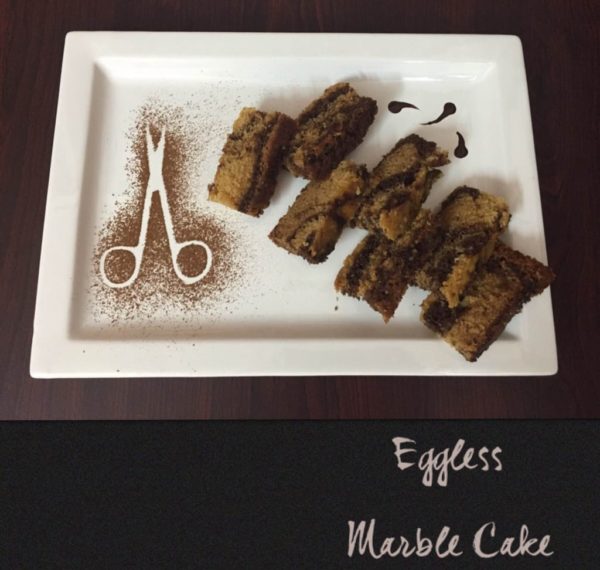 Sieve all purpose flour (maida) in a bowl. Add milk powder, baking powder and baking soda. Mix well.

In another large bowl, take milk, sugar and oil. Whisk it well till sugar gets dissolved.

Now add #Step1 and #Step2 , i.e Dry ingredients and the wet ingredients.

Mix it well with the help of a spoon. Add Vanilla essence to the batter. Mix well.

Now separate the batter into bowls. One will be Vanilla and add Cocoa powder to the another. Now we have batters- vanilla and chocolate.

Grease the aluminium mould/we are going to bake the cake. Dust it with all purpose flour (maida). Keep it aside.

Pour one big spoon of Vanilla batter in the aluminium mould, now pour one spoon of chocolate batter over it. Keep repeating this process one over the another. The batter will automatically take shape. Now with the help of a knife or toothpick, make swirl effects. Its upto your creativity how you want.

Pre-heat the microwave at 200 degree for 5 minutes. Bake the cake at 200 degree for 25-30 minutes.

Once done, check if the cake is ready test it with a toothpick or skewer to make sure the cake is cooked through.

Cool the cake and de-mould it. Enjoy!
Handy tips :
# To bake it in a pressure cooker, bake it on simmer for about 30 mins.
# To make it more Chocolaty - you can add chocolate powder and chocolate essence to the second batter.
Happy Baking.