Tea is always a good idea, right? 😉
If you are a tea lover like me, we just can't function without tea. Since Summer is here and the heat is getting on the nerves, I thought why not make something which has the flavor of tea and something that cools us down. Tada! Here I am with scrumptious and yummy earl grey tea ice cream recipe.
Earl Grey is one of my favorite variety of tea. It has a mild taste and its soothing & calming. According to Wikipedia; Earl Grey tea is a tea blend which has been flavored with the addition of oil of bergamot. It's perfect for those evenings when you are tired and need something relaxing.
If you have seen my previous Icecream recipe post, I have done a detailed, step-by-step recipe of "How to make Ice cream at home". It was the basic Ice cream/ Vanilla Ice cream recipe and you can add any flavor of your choice to that and then freeze. With the same Vanilla batch, you can make Chocolate or butter scotch or any fruit Ice cream of your choice. So with the same Vanilla base, we will be making Earl Grey tea Icecream.
Let's divide the recipe into parts.
Making Vanilla Ice cream – Just like in the earlier post, we have to make that fluffy base after beating with double beater. Obviously we don't have to freeze it. Before we freeze, add any flavor of your choice.
Adding Earl Grey flavor
Freezing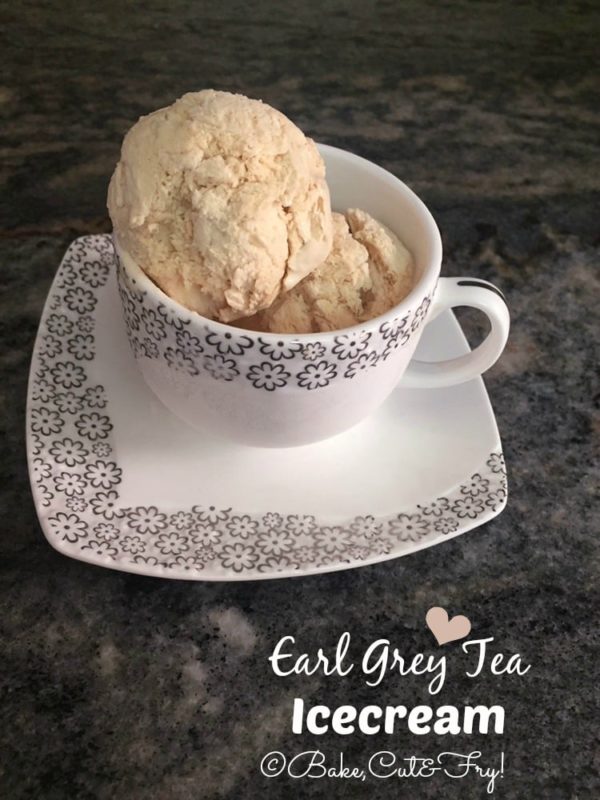 | | |
| --- | --- |
| | |
Vanilla Ice cream base as here.

Boil water and add earl grey tea leaves and let it boil for a minute. We just want the flavor. Once the color comes, strain it and let it cool down.

Once it is cooled down, add the earl grey tea extract to the Vanilla base and, that I have mentioned above and give it a stir. Mix well with a spoon.

Pour this to an air tight container. Cover the container with aluminum foil and close the lid.
Freeze it in freezer for about 7-8 hours and serve.
Tada! Earl Grey Tea Ice cream is ready to serve.
Trust me, its yummy and your family/friends/guests will love it! 🙂
Happy Cooking!