This Sandwich needs no introduction. We all have eaten this in Mumbai or make this almost every week or so and this is not any special recipe. But sometimes we don't know what to make for breakfast or what to give to our kids when they are hungry, so this recipe comes handy and can be made in jiffy.
Its healthy and its absolutely yum, of course Cheese can do wonders to any recipe. I have used normal maida bread, but you can always opt for multi-grain or Atta Bread. You can add veggies according to your choice. I have not added onions but you can add onion slices.
This is a step-by-step recipe. Serve it with Chips, fresh coriander chutney or ketchup.
Lets get cheesy 😉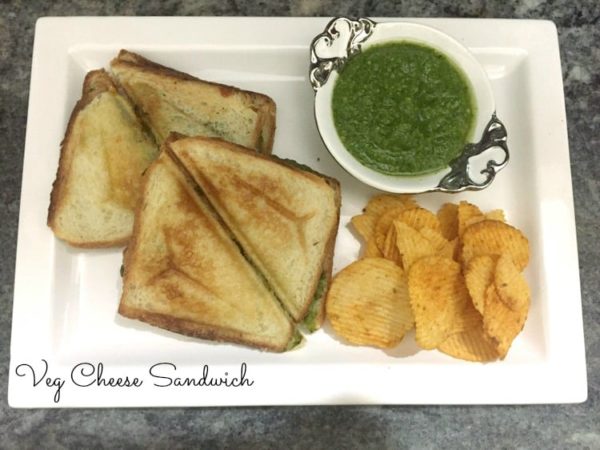 Prepare coriander chutney before hand or you can make it and store in refrigerator in an air tight container. Just don't add salt when you are preserving. When using, add a bit of salt and you good to use.

Boil potato and slice it up.

Wash capsicum and tomato and slice them up.

Take bread slices, spread butter on one bread and green chutney on the other.

Arrange veggies as shown below. You can arrange them as you like.

Grate cheese. I have grated Mozzarella on one slice and amul cheese cube on the another.

Now sprinkle, chaat masala and salt on it. Put slice on the other.

Toast them till its golden brown. I have used a toaster, you can grill it or cook it on a pan.

Serve hot with chips and fresh coriander chutney. Have fun! Enjoy 😀