Love Baking? Love Muffins? But don't know where to start from? This recipe will definitely help you out. Perfect recipe for beginners or someone who want to get their hands into baking.
Easy, yummy and super quick to make. You can add any flavour according to your choice, but I love Vanilla flavour ones, so I have opted for that. In this recipe I have added tutti-frutti and fresh coconut to give that extra texture. Keep these Mini Muffins in your kid's tiffin boxes and just see their reaction. *Nom-Nom*
If you are a beginner in baking, always remember – Baking is all about Perfect measurement and following the recipe. For baking, always use measuring cups and spoons handy as that will help in measuring everything.
You can check these recipes too : Vanilla Sponge Cake , Eggless Marble Cake, Eggless Sponge Cake,. Start with basic baking and then you can take it to the next level.
Let's get into some non-serious baking! 😉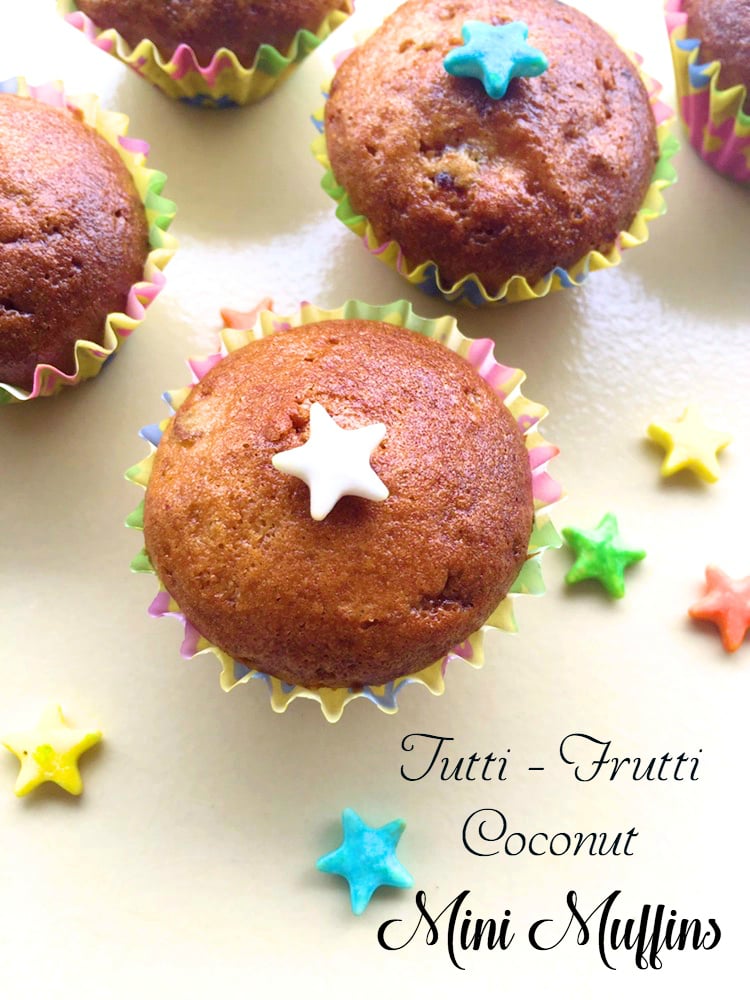 1/4

cup

Tutti Frutti

Mixed

2

tablespoons

Coconut

Grated Fresh

15

Cups

Mini Muffin

Sprinklers for garnish
1/4

cup

Tutti Frutti

Mixed

2

tablespoons

Coconut

Grated Fresh

15

Cups

Mini Muffin

Sprinklers for garnish
In a big thali or mixing bowl. Sieve Flour (Maida), baking powder, baking soda and milk powder. Mix them. Keep this aside. These are our "Dry ingredients".

Now in a large mixing bowl. Take Oil, add sugar and milk. Stir it, till the sugar is melted completely. Now add Vanilla essence and coffee power to it. This is our wet mixture.

Now slowly add dry ingredients to the wet mixture. Gently mix all together. Make sure there are no lumps.

If required, you can add a little more milk. We want a medium thick flowing consistency of the batter.

Finally add grated coconut and tutti frutti. Mix well.

Pour this batter into our muffin cups/ moulds. Make sure to fill only till 3/4th. You can use a tea spoon to fill these muffin cups.

Meanwhile, pre-heat Microwave at 200 degree - Convection - 5 mins.

Place a low rack and arrange these muffin cups in a microwave safe plate.

Bake it on convection at 180-200 degree for 25-30 minutes.

Once 25-30 minutes is over, check it using a toothpick. It should come clean.

Finally, you can add some sprinklers like these stars to make it more cute and fancy.

Voila! Mini Muffins are ready to serve and eat.

Let them cool down, you can store them any air tight container.

Serve it to your kids and guests.
Happy Baking! Happy Cooking!
Divya