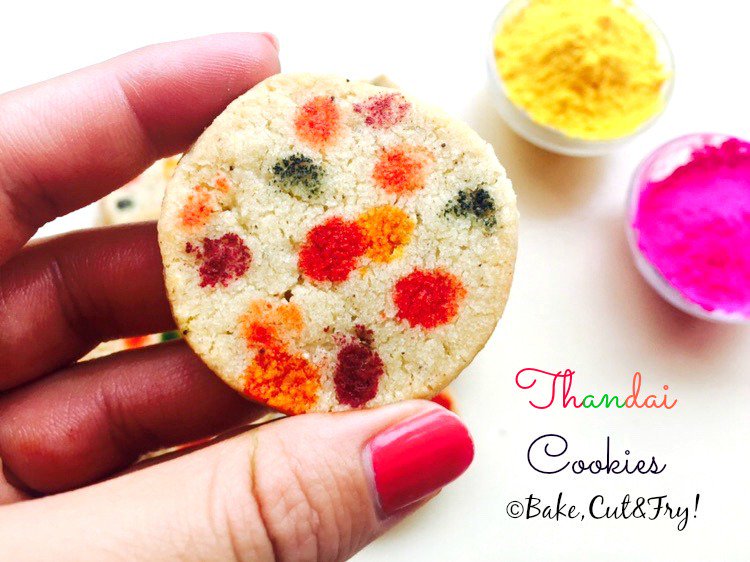 Holi is around the corner and we all are ready to play with colors, hogging on some yummy sweets, gujiya and namkeen. One thing which we all love is to drink is Chilled-Yummy-Flavorful Thandai. I have already done a post on how to make Thandai Masala at home and how to make Thandai. Do check them out. Continuing with the same series, this Holi I thought why not to play around with Thandai Masala and make something interesting.
And tadaaa.. here I am with Thandai Cookies / Biscuits recipe. I got the idea from this amazing blog call – Culinary Xpress, she is amazing when it comes to cooking. Do check her recipe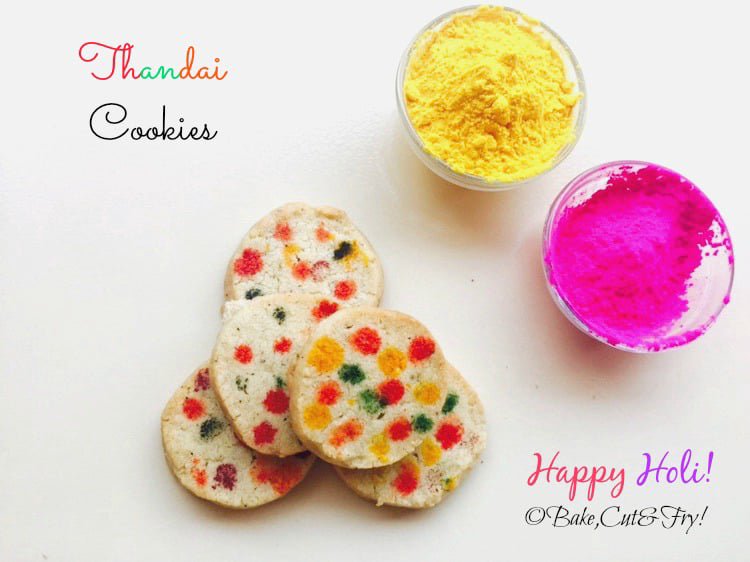 We all love Bicuits/Cookies and the varieties they come is hard to count. But as this was Holi special, thandai cookies were simply apt for the occassion/festival.
These are so easy to make and can be made in an hour. These are egg -less and are perfect to serve your guests this Holi. I have made them in Microwave under Convection mode.
Let's get down to some non-serious baking 😉

| | |
| --- | --- |
| | |
Leave the butter out on the counter till it is soft. We need the butter soft, but not melted. The key is to use soft butter and not melted one.

In a big mixing bowl- take Softened butter and Powdered Sugar. Blend it with the help of a double beater till light and creamy. It takes approx. 2-5 minutes.

Now add baking soda, salt, rose water and thandai masala. Mix well using a spatula.

Now slowly add the flour and mix it with the help of your fingers. Incorporate the butter into the flour.

Gently bring the dough together. Do not knead!

Take a cling roll, place the dough into it. Roll the cling roll tightly and secure it with rubber bands at the side.

Refrigerate it for an hour.

After an hour, take out the cling roll, remove the cling paper.

Cut it into slices about half-inch thick

Preheat the Microwave at 180 degree in Convection for 5 minutes

Arrange cookies/ biscuits in a Microwave tray. Maintain distance between them because they expand when bake.

Bake them in convection for about 14-15 minutes at 180 degrees.

When the bottom of the cookies begins to brown, they are done. They will be soft in the middle, but will firm up on cooling.

Once cool down, you add put bit of food colors to jazz them up and make them look colorful for Holi.

Cool them down and store them in air-tight jars

Tada! Thandai Cookies are ready!
#Note :
The cooking time might vary from Microwave to Microwave.
You can garnish with Pistachios and rose petals
Happy Baking! Happy Cooking!
Have a safe and colorful Holi!