Calzone is a popular Italian stuffed folded pizza. It was on my "Cooking wish-list" for so long. Finally I tried it yesterday and came out really well. It is made out of pizza dough, filled with tomato and vegetable filling, folded into semi-circles and bake it. You can deep fry them too, I guess that will taste yummy too. For this recipe I have baked it. 
For variation, you can try different filling as well, like corn and cheese or any vegetables of your choice. 
It is an Italian recipe but as always I like to give my own Indian twist to it. So for me it is a fusion recipe (Indian-Italian). I have modified the recipe which I have seen on TV with my own little twists.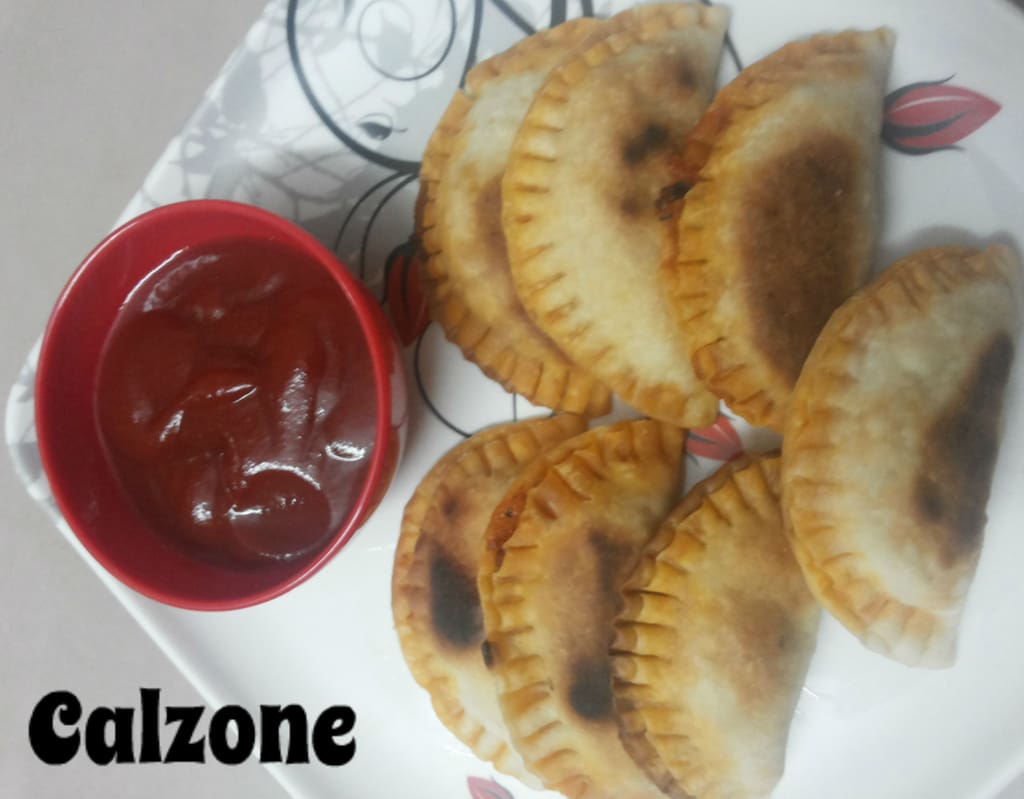 3. For making the filling. Heat oil in a kadhai.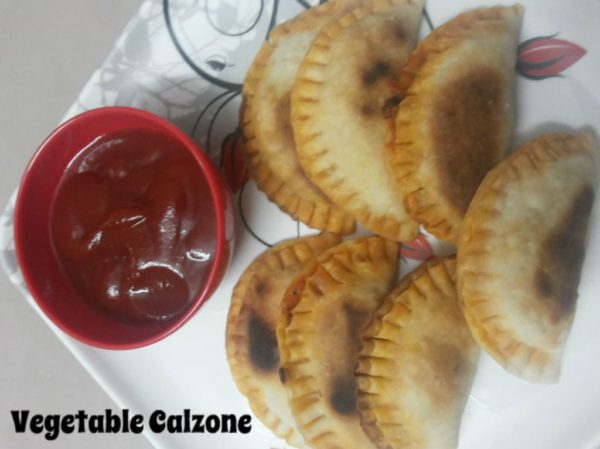 seeds ginger green chili basil oregano red chili

4. Add carom , , , leaves (crushed into pieces), and flakes. Stir them.
seeds ginger green chili basil oregano red chili

4. Add carom , , , leaves (crushed into pieces), and flakes. Stir them.
5. Now add capsicum, peas and corn. Cook it for half a minute or till veggies get a little tender and soft.
6. Add tomatoes and cook them till all the veggies came together and tomatoes get soft.
7. Add turmeric powder, red chili powder, sugar, salt and ketchup.
8. Cook it for about a minute. 
9. The filling should be medium thick, it should not be too runny.


Making Calzones :
1. Knead the dough with your hands. Take a medium -large portion of the dough and roll it with the help of roller or belan. Sprinkle a little maida for rolling.
2. With the help of round cookie cutters, cut the dough into small rounds as shown below. 


3. Take a spoon full of mixture and put into the centre of the rounds. 


4. Close the filling with the other half of the dough. It will be like folded semi circles.
5. Seal the ends with the help of fork. 
6. Grease the calzones with butter on top.
7. Preheat the oven for 10 minutes @ 200 degrees
8. Grease the baking tray, place all the calzones. 


9. Bake it for about 10-15 minutes till they are cooked and golden brown color. 
10. Serve hot with tomato ketchup.
11. Yummy vegetable calzones are ready to serve.


Handy Notes :
# Instead of baking, you can deep fry them. Next time I am going to deep fry them. If any one of you readers fry them, please let me know how it came out. 
# You can use yeast for fermenting the dough.
# Instead of tomatoes and capsicum, you can use onions, cheese and corn.