When it comes to kids we don't know to make them eat healthy food. Kids have become so choosy and picky when it comes to eating habits. They don't want to eat healthy-leafy veggies, all they want is to eat Pasta and Junk food. *Sigh*
So when Gustora Foods send me a huge box of assorted Pasta, I was so happy with their concept of 100% Egg-less Drum Wheat Semolina Pasta. Not only it's 100% Vegetarian, also it's super healthy as it is not made of all purpose flour/Maida. *Claps* – Yay!
Also they have special pasta made for kids. They have beautiful shaped pasta for boys and girls – named as Prince and Princess, how cute is this. I was feeling so jealous as why I didn't have these kinda pasta when I was young. LOL
Pasta is one recipe which every kid loves to bits. I was more curious to know what if I can combine Pasta with Chocolate, Nutella and can combine fruits too, how that combination will taste like and then I got the idea of Pasta Pudding. Sounds Cool, no? 😉
Pudding which is easy to make and can be make with so many variations. In this pasta pudding recipe, I have added Fresh Fruits as I wanted to make it colorful and yet healthy as our kids are gonna eat this. Also to make it more delicious, have made super yum Chocolate-Nutella sauce and dipped pasta in that to make it Chocolate Pasta.
Let's get started.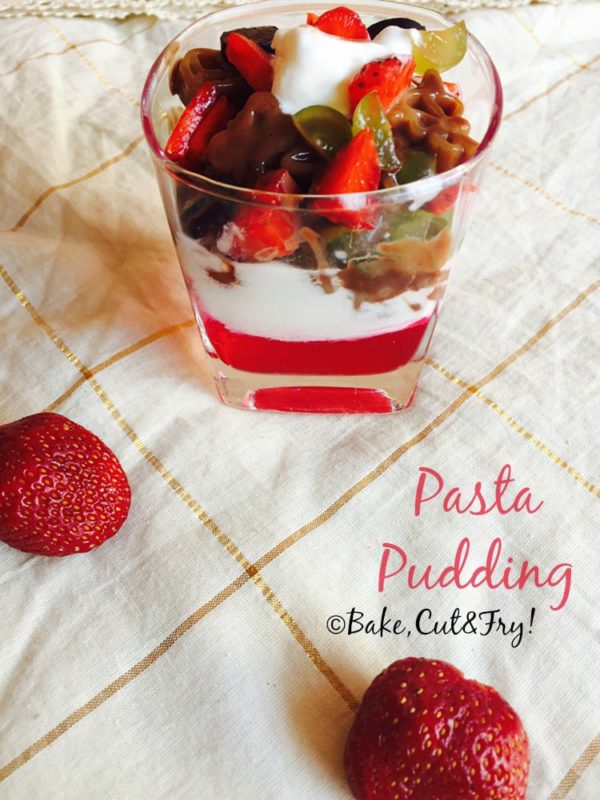 Take pasta of your choice, I am using Gustora's kids pasta.

Boil water and add a few drops of oil. Now add pasta and cook it al dente means to the tooth. Pasta should be cooked until itu2019s tender but slightly firm to the bite.

Once done, strain the water and keep it aside.

For the chocolate sauce. In a pan, take Amul fresh cream, cocoa powder, Nutella, Hershey's chocolate syrup and Vanilla essence. Mix it well and heat it for a minute.

Now add Pasta to the chocolate sauce. Give it a toss and keep it aside.

Wash Strawberries and grapes. Chop them. Keep it aside.

Prepare Jelly as mentioned in the pack.

Take a glass of your choice.

Once the jelly is hot, set it at the bottom of the glass. Put inside in the refrigerator so that the jelly gets set.

Once the jelly is set, top a layer of Vanilla Ice cream.

Now add a layer of our chocolate sauce coated pasta.

Top it with fresh fruits - strawberries and grapes.

Again pour a layer of chocolate coated pasta

Finish it with a scoop of Ice-cream and garnish with strawberries.

Tada! Your Yummy, Pasta Pudding is ready to serve
Don't forget to check : Gustora Foods
Like their Facebook Page - Click here