Penne pasta tossed in creamy delicious white sauce. This is very yummy, filling and quick to make. I have used penne pasta , you can replace it with any other pasta of your choice.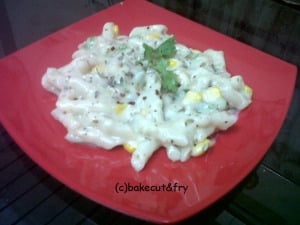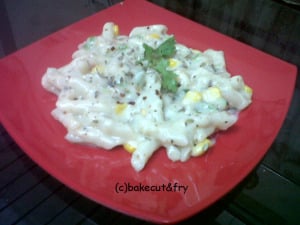 Take a wide pan. Bring plenty of water to boil add salt (a pinch) and oil (1/2 tsp). Then slowly add the pasta and cook it till al dente (Pasta should be cooked until it's tender but slightly firm to the bite). Stir in between to prevent the pasta from sticking together.

After it is cooked, drain it in a colander and pour cold water on it. This is done to prevent it from getting cooked further. Mix another 1/2 tsp oil to it and keep it aside.

In a pan or kadhai melt butter, simmer and add flour (maida) to it. Stir it continuously. Saute till maida is slightly cooked. At this stage add milk and stir continuously to avoid any lumps. When it starts thickening add cheese, oregano, red chilli flakes, ginger, basil leaves (crushed from your hands) . Add salt and black pepper powder. Cook it for 1-2 mins. If its too thick you can add more milk and stir continuously.

Add corn to the white sauce and add the pasta. Cook it for 1- 2 minutes. Grate cheese for garnishing. Serve with garlic bread.
Handy tips:
I have used only corns , it goes well with white sauce. You can add capsicums and veggies of your choice.
Instead of all purpose flour you can use cornflour.