Who doesn't love Paneer Butter Masala? If you are a Vegetarian, you must have ordered this dish *n* number of times in a Restaurant. Right?
Paneer butter masala is one of the most popular North Indian vegetarian dish. Indian cottage cheese (paneer) cooked in thick tomato and onion gravy with loads of Indian spices. But in this recipe, I am going to make it without Onion and Garlic. Yes! Yes! Yes! You heard it correct 😉
You can find so many recipes on the internet which have Onion-Garlic Gravy, but I want to dedicate this recipe to people who don't eat Onion or Garlic. In my house my Grandparents don't eat Onion so I make this for them. You can obviously add onions if you want.
But now you will wonder if I am not using onions, how my gravy is gonna be thick???
The Secret ingredient here in this recipe is : CABBAGE or Patta Gobhi. We will use cabbage instead of onions. It will give that texture to the gravy, also it tastes almost- a- bit- exact to onions 😀
Restaurant style Paneer Butter Masala at home in few easy steps. Trust me you gonna love it and it tastes yummy. Perfect recipe for beginners like me. I have made this dish so many times and always get compliment from my family members. You can serve it with Naan, Paratha, Kulcha or Jeera Rice.
Lets get down to business 😉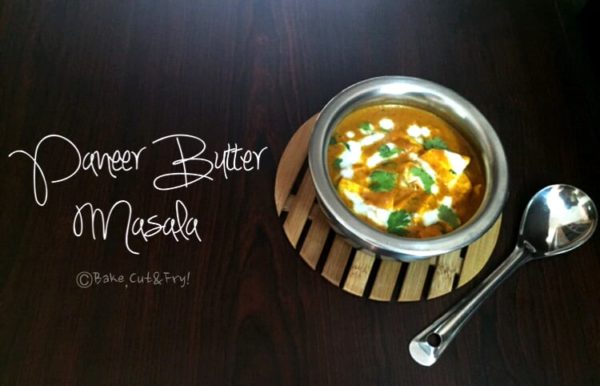 Cut Paneer or Cottage Cheese into rectangles (finger like shape).

Now in a deep mixing bowl take 1/2 tsp orange food colour. If its in powder form, add water to it. Mix the Paneer pieces gently to this orange solution and keep it aside. You can skip this step. Its absolutely optional to make Paneer pieces orange in colour.

In a microwave safe bowl. Take cabbage and tomatoes. Boil them with some water for about 4-5 minutes. You can boil cabbage and tomato normally on gas too.

In a Mixer pot, take boiled cabbage, boiled tomatoes, ginger paste, green chilies, cashew nuts, tomato ketchup, garam masala, turmeric powder, red chili powder, cardamom pods, cinnamon stick and coriander seeds. Grind it to make a fine paste.

Heat butter and oil in a pan. We are adding little oil so that butter does not get burn. Cook the above grinded masala (step#4) for 10-15 mins at low flame. Keep stirring. Its important to cook it properly. Cook the Masala till it starts leaving oil. Its an indication that the masala is cooked.

Once the masala is cooked. Add Malai (fresh cream) and milk. Mix it well and cook for another few minutes.

Add Paneer pieces and gently give it quick stir.

Add Salt and honey. (Honey gives a beautiful layer of shine and gives a nice taste)

Switch off the flame and gently crush kasoori meethi between your palm and sprinkle it.

Garnish with Fresh cream and fresh coriander leaves.
Handy tips 
For Onion Gravy instead of Cabbage, can add boiled Onions and Garlic.
Instead of fresh malai, can add khoya or mawa.
Instead of milk can add water but then cook it for some more mins.
Do not put the masala in too hot oil. Oil should be medium hot.
Happy Cooking