So finally another recipe on Oreo Biscuit/Cookies- If you are bored with that Twist, Lick and Dunk thing, you should definitely try this! 😛 *Slurrrrrp*
The first thing which comes to my mind when I hear- OREO Biscuits is – Yummy, chocolate-y and Oh-So-Sinful 😉 I call it Oreo-wala-Love.
Oreo milkshake is one of the most tempting recipe for chocolate and oreo lovers. With just 4 ingredients you can make it within minutes. If you want to make your kids do their home-work, just tempt them with this. Or if you want them to drink milk without being fussy, make it and they will love it! *trust me*
Lets get into this 😀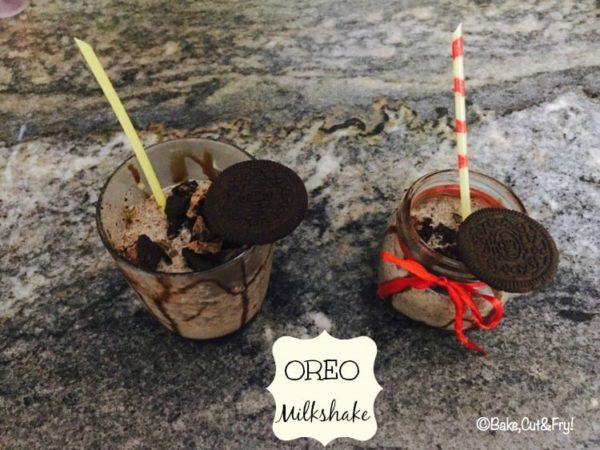 | | |
| --- | --- |
| | |
As they say - You eat with your eyes first .So for a person like me, I always love putting that extra effort in presentation. I thought why not take fancy glasses and make it more fancier 😛 Drizzle Hershey's syrup from top, let it flow and let it cover the sides of the glass. Put the glasses in fridger so that the chocolate syrup is set before we pour the drink.

In a big bowl, take scoops of Vanilla ice-cream. I took just one as I was short of it. You can add as many scoops as you like.

Roughly crush Oreo biscuits from your hand and add. Now again you can add more or less, depending how chocolate-y you want. Of-course more the merrier 😛

Drizzle some more Hershey's syrup

Blend it with a Blender and tadaaa

Serve it in glass and serve chill.

Slurp! Slurp! Slurrrrrrppp!!
Notes :
1. You can either add Vanilla or Chocolate filled cream Oreos.
2. Can add crushed ice cubes
Enjoy!
Divya