Oreo Brownies are just to die for. These chewy, rich, dark chocolate brownies are ideal for desserts and you can top them with ice cream, cherries, nuts, chocolate sauce, or anything of your choice. It is an egg-less brownie recipe. I love eating brownies, cakes and all those fancy desserts you can name.
Recipe adapted from : saffrontrial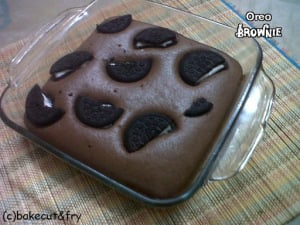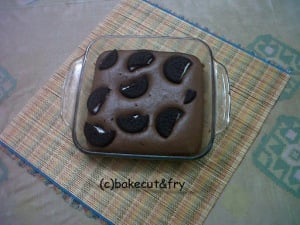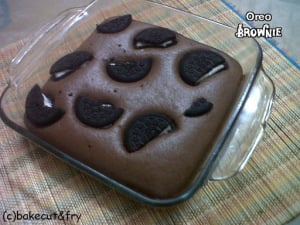 Sieve the flour, baking soda, cocoa powder and coffee powder together. Let's call them dry ingredients. Keep them aside.

In a heavy bottomed pan, melt butter on low flame. Once nearly melted, remove from the flame, it will melt automatically with the residual heat.

Add the melted dark chocolate and condensed milk to the butter and stir continuously.

Now we will add the dry ingredients to the above wet mixture (step#3)

Mix all of them gently. If too thick add milk accordingly.

The batter should be medium thick and not too runny.

Transfer the batter to a greased pan.

Add oreo biscuits on top.

Preheat the microwave at convection for 5 mins @ 200 degrees.

Bake for 25-30 mins at convection @ 200 degrees.

To check if the cake is ready test it with a toothpick or skewer to make sure the cake is cooked through. Cool the brownie cake and cut into squares.
Handy Tips :
# Serve oreo brownies with vanilla ice-cream and drizzle chocolate sauce.
# Can serve oreo brownie sandwich by putting vanilla ice cream in between two slices of brownie.