Okay, I know that nobody needs an excuse to eat Nutella. Right? 😉 You don't even have to put it on anything—it goes great with spoons or even with your fingers.
Nutella, for anyone who hasn't yet had the pleasure, is a creamy chocolate-hazelnut spread and its absolutely freaking YUM. It can calm you down or can get down to your nerves.
Coming back to home when it's freezing cold outside and all you need is fuzzy socks, warm blanket and a hot steaming cup of Nutella Hot Chocolate.
Who doesn't love Hot Chocolate and who doesn't love Nutella? 😀 So I thought why can't we combine both and make a super yummy and easy recipe.
Let's dig into it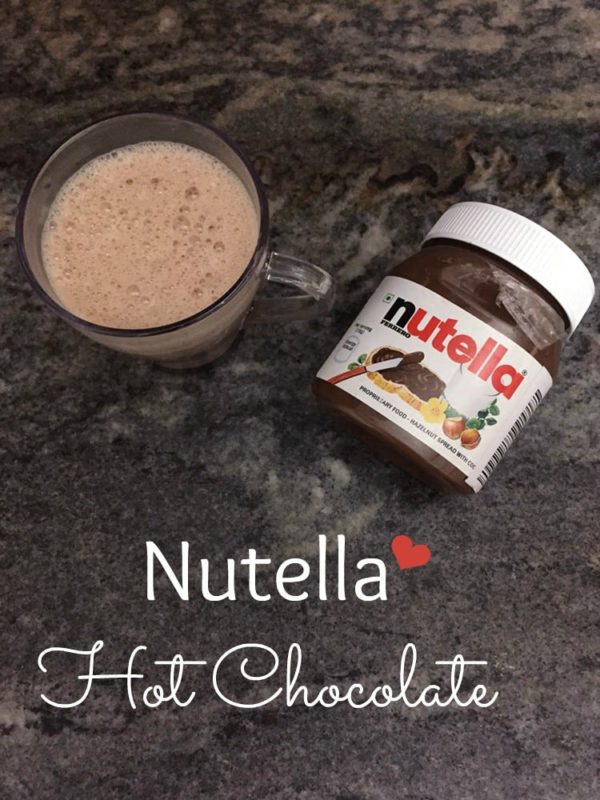 | | |
| --- | --- |
| | |
Put milk in a small pot or vessel. Put in on the stove on a low heat. Let it get simmer. Add Cream and give it a stir.

Now add cocoa powder, vanilla essence, and the hero of the dish - Nutella spread. Whisk it and give it a nice stir.

Lastly add sugar and salt. Sugar you can adjust according to your taste. Salt should be a pinch just to give it a bit flavor.

Stir all well and let everything come for a boil.

I have whisked the entire thing with the help of a blender. It will give that froth to the hot chocolate.

Serve Hot.Wear your fuzzy socks, tuck yourself into a warm blanket, read your favourite book while you sip this Steaming Nutella Hot Chocolate.
Note :
Can add Marshmallows and whipped cream. Yummizza!! 😉
Also to make it spicy, add a stick of Cinnamon stick to the milk.
Happy Winter! ❆