Murmura or Moodi is known as puffed rice. The common street food which is widely available from Puffed Rice are Jhal Moodi and Bhel Moodi. These are loaded with flavour and tastes absolutely yummy *Nom Nom*.
Since Poha is one of the common breakfast recipe here in India which is made from Flattened rice. This recipe is a new version of Poha but instead of flattened rice we have used Puffed one. Its light yet filling. The best thing about this recipe is, it's so quick to make. You can make this in around 5-10 minutes.
Recently I visited my Nani Ghar in Rajasthan and there my Mamiji made this for us and that day it clicked me why not post a recipe on the website and there you go. Perfect for early morning breakfasts or when you are in a hurry.
Quick and super easy to make. Let's get started.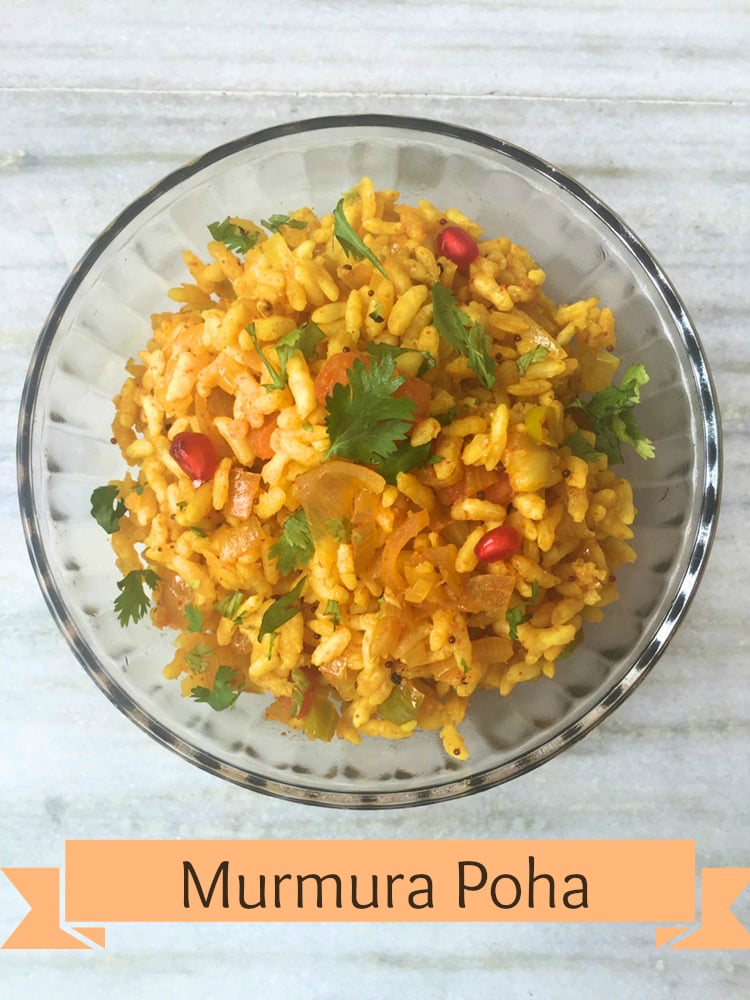 Put puffed rice in a sieve and rinse it under running tap water for few seconds.

Remove/squeeze out all the excess water and let it rest in the sieve till we make the tadka. The process is exactly like how we wash and soak Poha/Flattened rice.

Take a deep bottom pan or kadhai.

Heat oil add mustard seeds and chopped green chillies. Let it splutter.

Add finely chopped onions and sautxe9 them till it becomes translucent.

Add finely chopped tomatoes. Sautxe9 it for 1-2 minutes on low flame.

Add turmeric powder, red chilli powder and salt to taste.

Finally add the puffed rice and toss it gently coating all the masala.

Add lemon juice according to taste and sprinkle finely chopped coriander leaves.

Jhatpat Murmura Poha is ready to serve.

Serve it with Bhujiya sev or eat just like that!
Notes :
You can add potatoes or capsicum too.
You can add curry leaves if you like the taste of it.
If serving it to kids, add ketchup and serve. It will give a tangy taste to it.