The best part about Winter is you get to binge on Yummy ,Butter-loaded and delicious Parathas. Mooli Paratha is nothing but Indian wheat bread stuffed with grated, sautéed, spiced mooli/radish stuffing.
It is yummy, spicy and easy to make. If you are bored with normal Parathas, do try this. You can have it for breakfast/lunch or Dinner or you can serve it to your kids and make them eat Mooli in this form 😉
Some people use raw raddish add spices and use it as a filling, on the other hand my Mom has taught me to sauté it first, add spices and then make Parathas.
Usually Mooli Parathas are served with curd, pickle, green chutney. You can eat them with tomato ketchup too.
Lets get started.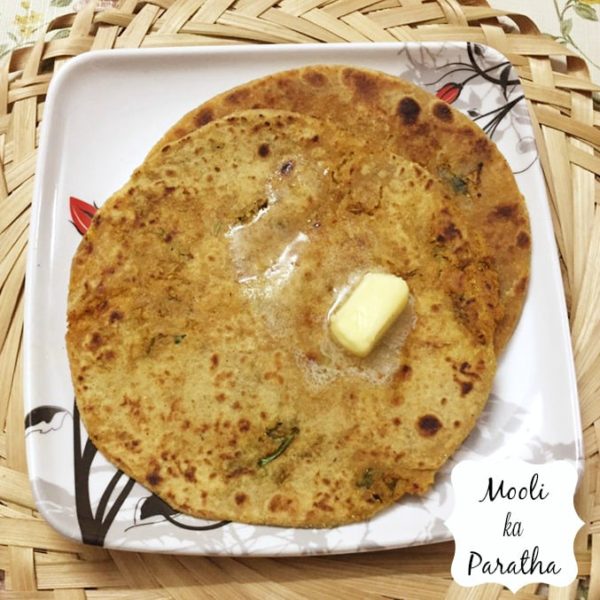 Prepare the dough by mixing wheat flour, salt and water. Keep it aside. This is like the regular dough.

Wash, peel and grate Raddish/Mooli. Once done, squeeze raddish between your palm. Squeeze all the water from it.

Heat a tablespoon of oil in a Kadhai.

Add cumin seeds and green chilies. Let the cumin seeds splutter.

Now add ginger and grated Raddish/Mooli.

Mix well and sautxe9 raddish on a low flame. The idea is to take out all excess water from the raddish.

Add turmeric powder, red chili powder, amchur powder, garam masala and salt.

Mix it well, finally add Coriander leaves and switch off the gas.

Take out the mixture on a thali and let it cool down.

Once the mixture is cooled down to room temperature.

Take a lemon sized ball of dough, dust it with atta and roll it.

Put a generous amount of filling in the centre. Don't fill too much as it will break the paratha during rolling.

Now cover the filling with the ends of the rolled out dough.

Cook it on tava on a low heat. You can use either butter or ghee. Cook it till both the sides get a nice golden brown color.

Serve it with a dollop of Butter.

Serve it hot with curd or chutney or even ketchup.
Enjoy! *Burrrrrp*
Happy Winter ! Happy Cooking.