Indian cottage cheese (Paneer) cooked in thick onion-tomato gravy with a touch of kasoori meethi (dried fenugreek leaves). It gives the dish a lovely aroma and taste. If you are in a hurry, you can make the masala and store in refrigerator a day before. Kasoori Methi Paneer goes well with naan, roti or any bread of your choice.
Cut Paneer into cubes. Keep it aside.

Boil onions and tomatoes in 3-4 glasses of water. Pressure cook it for only one whistle or microwave it for 8 minutes.

In a mixer pot, take onions, tomatoes, and put all the dry masala as listed above. Grind it to make a fine paste.

Heat oil on a low flame, add the above grinded masala (step#3). Cook it for 5-10 minutes on low flame or till the gravy leaves oil. It's an indication that the gravy is cooked.

Add Paneer cubes, salt and milk. Cook it for another 4-5 minutes.

Serve with fresh cream and garnish with coriander leaves.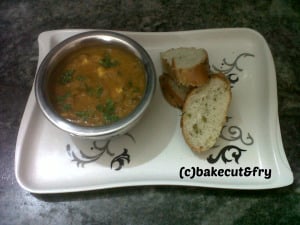 I have served it with masala bread.
Happy Cooking!