Hello Everyone
As we all know Diwali is round the corner. Diwali or Deepawali is a festival of lights, togetherness, love and signifies the victory of light over darkness. One thing which we all love about Diwali apart from new clothes, lights, rangoli, toran candles and diyas is : SWEETS. Yes! We all love eating them and can't stop hogging them in the name of Diwali 😉
At-least my excuse of having lots of sweets and not being Calorie Conscious is : Diwali hai, chalta hai 😀 *Evil Grin*
Jokes apart, one Sweet, which we all love is KAJU KATLI. Its one of the most popular sweet and loved by all. Whenever we get a big box of Kaju Katli at home, they just get over in a couple of days. Also Kaju Katli is one of the most popular sweets which is gifted to relatives and friends during the diwali festival in north india.
Most of the time we get Ready-Made Kaju Katli from the market, but then I insisted my Mom to give it a try and make it at home. Trust me, I was nervous and but was more excited to give it a try. I will not say making Kaju Katli is easy, but hey! as they say- Cooking is not a rocket-science. We can always try and give it a shot.
This was the third time I made Kaju Katli, if you are making for the first time, then just forgive yourself if the Kaju Katli does not come out well. We always learn like this, right? Practice is what it takes to make any sweet perfect.
Few things that contribute to get a perfect Kaju Katli–
The consistency of the powdered cashews,
The consistency of the sugar syrup
Cashew dough and why kneading the cashew dough is important.
Measurement is the key
This recipe is by Chef Sanjeev Kapoor. He is my Idol, Guru and Inspiration. The way he teaches us is simply fabulous. Once you see his videos, you feel like- Oh its easy and I can make it too. *Yay* Do watch it before you go ahead. He has taught it in the most easiest manner.
Kaju Katli by Chef Sanjeev Kapoor
For this recipe I have not used varak or silver foil. If you like, you can always put and make it more fancier. With just few ingredients you can make it at home.
Lets get started :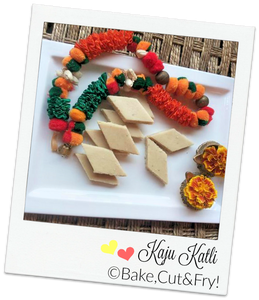 | | |
| --- | --- |
| | |
Powder the Cashew in a mixer grinder or coffee grinder. We want a fine powder. The trick is to grind it by doing on/off on the machine. Remember do not over grind it, otherwise it will leave oil. The cashews should be in powdered form and not become pasty or oily.

Keep this Powdered Cashew aside.

For Sugar Syrup, take a non-stick Kadhai.

Pour water and Sugar and let it cook on a low flame. We want a sugar syrup between 2 string or 3 string consistency. It should not be very thick.

Once the sugar syrup is of the right consistency, add the powdered cashew.

Cook it on a low flame and keep binding everything together.

Stir and keep on stirring the cashew mixture on a low flame. The cashew mixture would start thickening and will start leaving the Kadhai sides. Cook the cashew mixture for approx 7-9 minutes till the whole mixture starts to come together.

Add just a drop of ghee, just to bind everything together and a fine lump will form.

Now take out the mixture, on a flat surface or kitchen top.

When the heat in the mixture is hot enough to handle, then knead the cashew mixture.

Roll the mixture or the dough with the help of a rolling pin, till you reach a thickness of 3-5 mm in the dough.

Now let it cool down at room temperature and cut it with a help of a knife.

You can cut it in Katli-Diamond shape or any shape of your choice.

Serve it right away or keep in an air-tight container.

Make it for your family and friends.
Notes :
Can add saffron strands to give it a beautiful yellow colour and it will enhance the taste.
When rolling the mixture, apply ghee on the Kitchen top or you can roll on a Butter paper.
Can add rose-petals or rose syrup.
Silver foil or varak can be used.
Happy Cooking and Happy Diwali