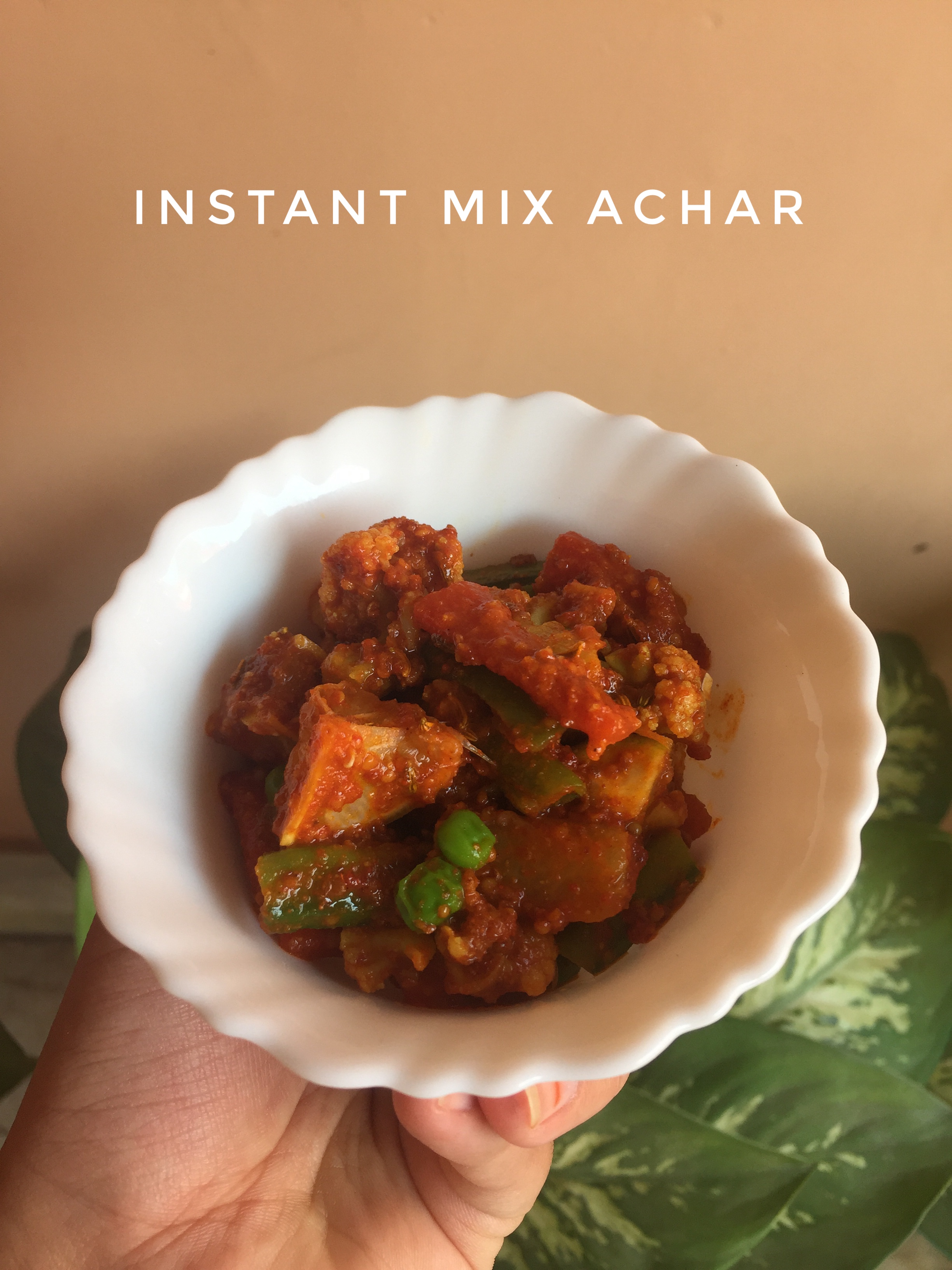 If you ask me what's my must haves in my thali? I would say "Achar and Papad". These two things are absolute must haves in my meal. It adds that "zaika" or flavor to your palette. If you live in India or if you have been to India, you must be aware of the insane varieties of Achar or Pickles we have.
Achar or Pickle is a great condiment served with the meal. Basically, achar is prepared with vegetables or fruits and then marinated with Indian spices and preserved them in jars.
Like every Indian Mom and Grand-Mom, my Mom makes this instant mix vegetable achar. Why it's called instant? Because you can eat it the same day and doesn't require to be kept in the sun or for preservation.
This instant mix vegetable achar is perfect to have during Winters since it has got loads of fresh vegetables and it tastes absolute yum. You can choose any vegetable of your choice. Here we have made Panchranga Achar with Carrots, Beans, Cauliflower, Peas and radish. For extra zing, I have added lemon pieces, green chilies and ginger juliennes too. Here is a step by step recipe so that anyone can try at home.
Super quick to make and it's every easy to. If I can learn so can you 😉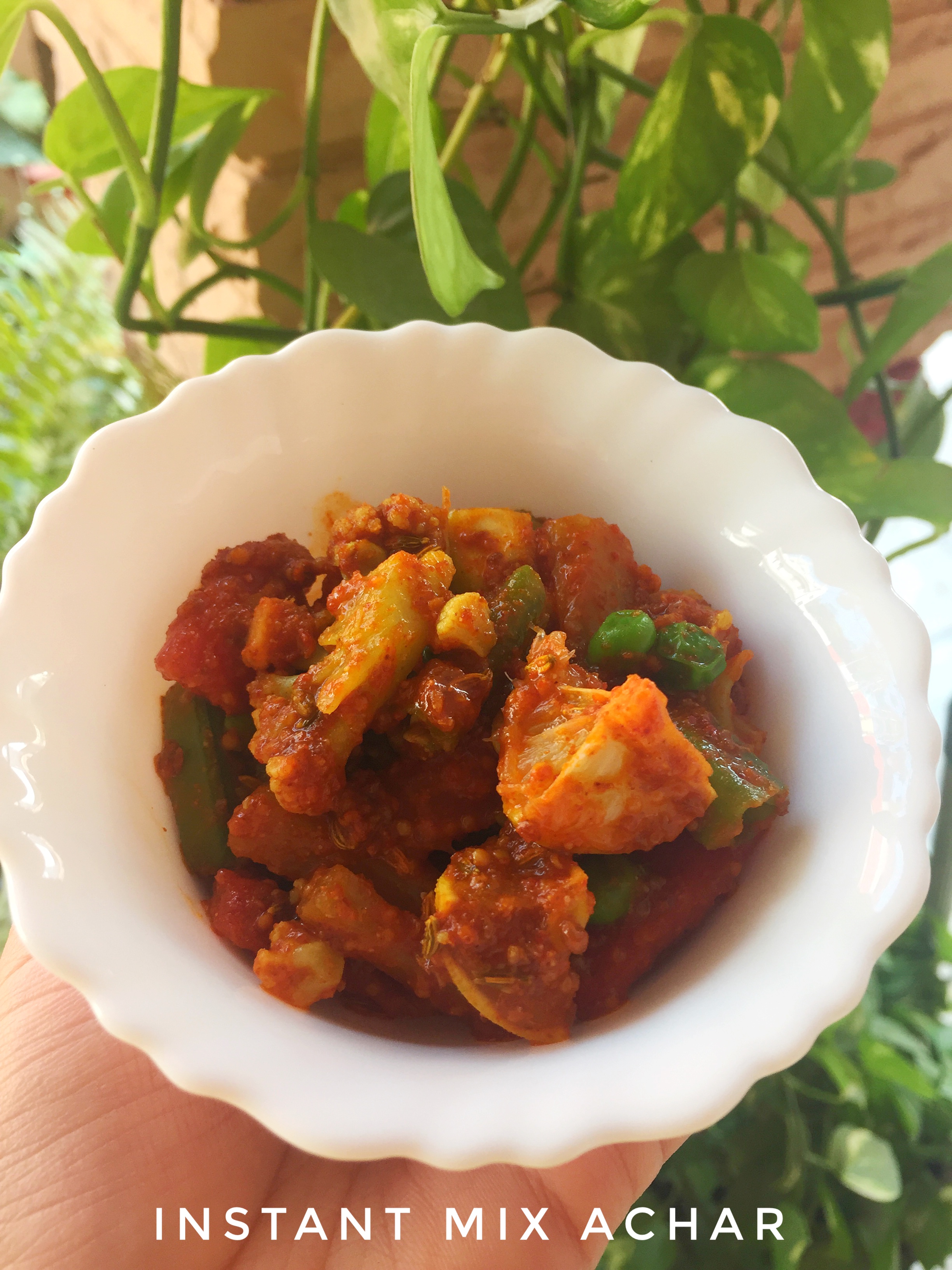 Let's get started!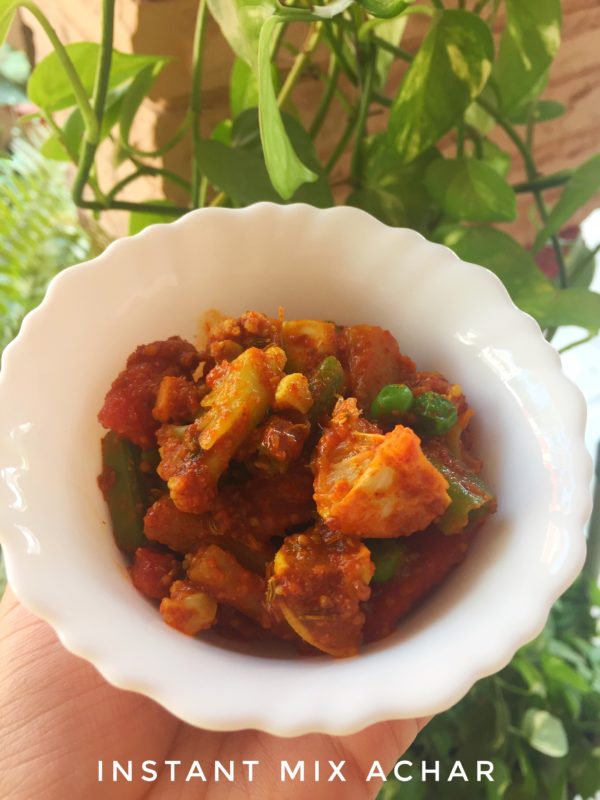 | | |
| --- | --- |
| | |
Wash, clean and chop vegetables of your choice. Here I have taken Carrots, Radish, Beans, Peas, and Cauliflower. You can always adjust the quantity of your preferred vegetable.

In another bowl, add diced lemons, green chillies and ginger juliennes. Keep them aside.

Take water in a kadhai, add salt and haldi. Let water come to a boil and add all the mix vegetables. Do not add lemons, chillies and ginger. We just want to cook vegetables till they become tender and soft. Keep the vegetables in boiling water for 2-3 minutes. Do not over cook them.

Once 2-3 minutes are done, strain the vegetables using a strainer. Remove all the excess water.

Spread these vegetables on a dry clean cloth. We want all the excess water to get dried off. You will see the vegetables are tenderly cooked. Also you will see a beautiful yellow color on them.

Now add the chilies, lemons and ginger to the cooked vegetables. Mix everything together.

In a deep mixing bowl, take all the vegetables. Add readymade achar masala. Always check the ingredients of the achar masala, since this masala already had salt in it, we didn't add the salt. If your packet doesn't say salt, add salt accordingly.

I have added around 3/4 cup of Achar masala.

Now add vineger. I have taken white vinegar normally which we use in daily cooking.

Finally add sarson ka tel or mustard oil. No need to heat or warm it. Just add the oil in room temperature, direct from the bottle 😛 - I have added these 2 spoons of oil.

Mix everything and see if the masala is enough and is coating all vegetables. Also check if oil is sufficient enough.

Tada! Mix achar is ready to serve. You can eat this achar after 2 hours of making.
You can use any vegetables of your choice.
You can eat it the same day, just keep it rest for at least 2 hours.
It doesn't require to keep under Sun. You can keep in a cool place.