Making pulao/pulav is no rocket science. Its one of the easiest and quickest recipe to make when you are super hungry. When I am not in a mood to eat Sabzi-Roti, I prefer to make Pulao and have it with raita. It's filling and healthy too.
There are so many varieties of Pulao which you can try and experiment with. Add vegetables of your choice and there you have different types of pulao to try on. Since Winter is still here, Matar and Gajar are two veggies which are easily available in market and that too in abundance.
This Pulao can made with fresh or frozen peas, but since its available now, I have used the fresh ones. You can make frozen peas at home too. If you are looking for the recipe of how to make Frozen peas at home, click here.
You can serve Gajar-Matar Pulao with Onion Raita or plain curd or any raita of your choice.
Let's get started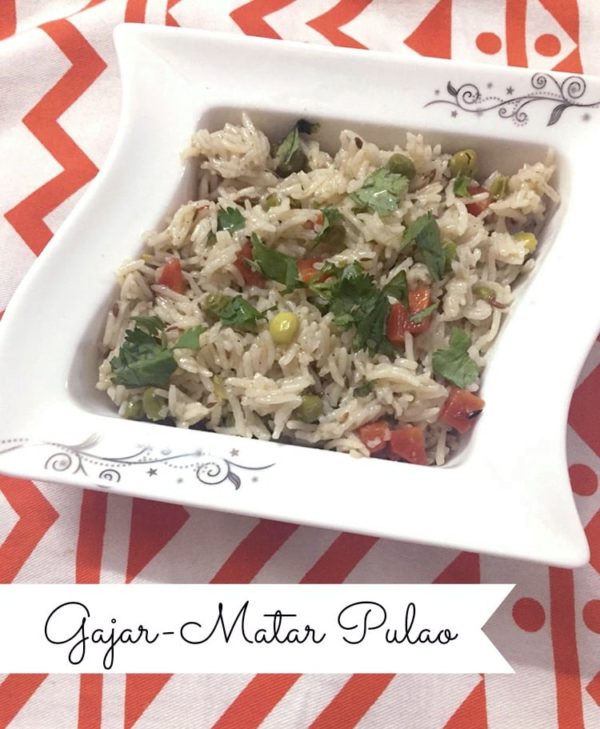 Wash rice thoroughly under tap water 2-3 times, till its clean.

Soak rice in clean water for 30 minutes. We are taking 2 cups of water, double the quantity of rice.

Wash and chop carrot in dices.

Wash peas and keep aside.

In a pressure cooker, heat oil/ghee on a low flame.

Add cumin seeds and let it splutter.

Now add cloves, cardamom, bay leaf, and cinnamon stick.

Saute it for a minute on a low flame, till you smell the aroma of fresh spices.

Now add peas and carrots. Saute them again for a minute till it gets soften and tender.

Now add the rice along with the water.

Stir it lightly as we do not want to break the rice.

Add salt and garam masala. Stir and close the lid of the pressure cooker.

Pressure cook at high flame till one whistle.

Once done, let the temperature come down and then stir, otherwise it will break the rice.

You can add a dollop of ghee from the top.

Add coriander leaves for the garnish

Serve hot with dahi or onion raita.