Black Forest cake is a very popular chocolate layered cake with loads and loads of whipped cream, cherries and grated chocolate. It is super yum and loved by chocolate and cake lovers. 
 You will find so many recipes on the internet with different ingredients or different style of cooking it. But I find this the easiest and simplest way of baking an Eggless Blackforest cake. I have baked it so many times be it for my brother or for my relatives or neighbors, the list goes on and on. 
 You can bake it in pressure cooker or microwave. I have baked this one in pressure cooker.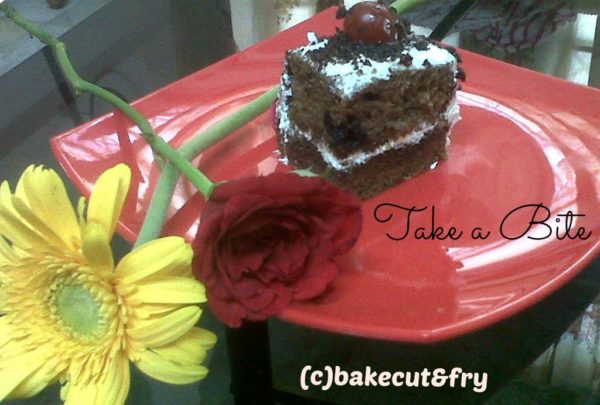 Grease a round aluminium mould with butter and dust it with flour. Keep it aside.

Sieve the flour, baking powder and baking soda. Add chocolate powder, cocoa powder and coffee powder. Mix all of them well. Keep them aside. Let's call them dry ingredients

In a heavy bottomed pan, melt butter on low flame. Once nearly melted, remove from the flame, it will melt automatically with the residual heat.

Add milkmaid to the butter and mix it well.

Now we will add the dry ingredients to the above wet mixture (step#4). Add small portions of dry ingredients at a time.

Finally add aerated cola i.e coco-cola in this case and mix it gently. The batter should be medium thick.

Pour this batter into the aluminium mould.

Bake it in pressure cooker for about 30-45 minutes. Check it when 30 minutes are done and if you think its not yet cooked keep it for another 5-10 minutes.

To check if the cake is ready, test it with a toothpick or skewer to make sure the cake is cooked through.

Layer the cake / Assembling the cake

Once the cake is cooled down, cut it into 2 or 3 layers horizontally.

Place the bottom layer on your serving plate, pour 2-3 tbsp of coco-cola.

Now spread 2-3 tbsp of whipped cream on the layer. Cover it nicely. Sprinkle finely chopped cherries.

Now place the second layer on it and repeat the same process of adding coco-cola, whipped cream and cherries.

Place the final layer and cover the entire cake with whipped cream. Layer it with the help of broad spatula.

Now sprinkle grated chocolates all over the sides and at the top.

Garnish with cherries and chocolate shavings.

Keep it in refrigerator for 5-10 minutes.

Serve a big piece to your family, friends and relatives. Enjoy !!!
Notes
# You can bake it in a microwave at convection @ 200 degrees for about 30 minutes.
# You can add chocolate chips, chocolate leaves, silver beads, strawberries and whatever you like
# You can make half quantity at first.