Basic sponge cake can be use as a base for many desserts. You can bake it in a pressure cooker or in a microwave oven. I have baked this one in microwave. Its one of the basic microwave cooking recipe.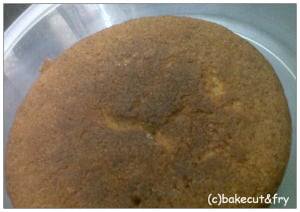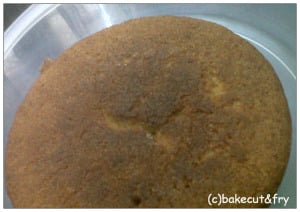 | | |
| --- | --- |
| | |
Sieve the flour, baking powder and baking soda together. Lets call these dry ingredients.

In a different pot take ghee (at room temperature) add fresh malai and milkmaid. Mix them well. Add vanilla essence. Mix it.

Now add half of the dry ingredients and half of the milk and gently fold it. Then add the rest of the dry ingredients and rest of the milk. Mix them well as to avoid any lumps. Now the cake batter is ready.

Take an aluminum mould, grease it with ghee or butter and dust it with maida.

Preheat the microwave @ Convection for 200 degree for 5 mins.

Put the mould inside the microwave and bake it at convection 200 degree for 25-30 mins.

To check if the cake is ready test it with a toothpick or skewer to make sure the cake is cooked through.

Cool the cake and de-mould it.
Handy tips :
# To bake it in a pressure cooker, bake it on simmer for about 30 mins.
# Instead of ghee u can use unsalted butter or oil.
# Instead of vanilla essence you can use pineapple or butterscotch essence.
# You can put tutti-frutti in the batter.