Dal Makhani is a popular dish originated from Punjab. Rich in taste, full of flavors and it's finger licking good. We all have tried Dal Makhani in Restaurants and always wanted to replicate it at home. Since there are so many ways of making Dal Makhani and everyone has their own tips and tricks, you can try any recipe. I have tried Dal Makhani a couple of times and came up with this recipe, it's easy and not that difficult to make.
First things first, don't get scared by the name – Dal Makhani, it's easy but it requires a bit of preparation and patience. After all cooking is no rocket science! 😉
Always remember, the more slow cooked Dal Makhani is, the better it tastes.
Let's dig into the recipe.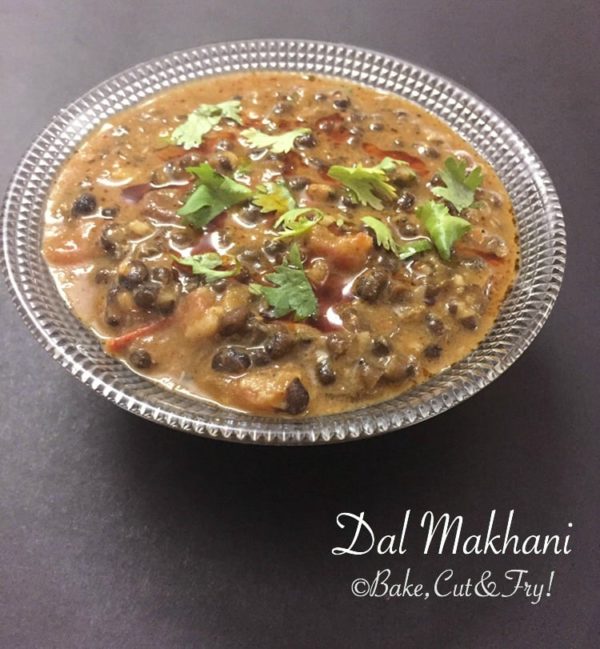 For Dal Makhani we use whole urad dal i.e kaali urad dal and rajma/kidney beans. Wash rajma and urad dal under running water for 3-4 times. Soak them into water for 5-6 hours or overnight.

Once the dal has been soaked for enough time, in a pressure cooker take rajma and urad dal, add 3 cups of water to it. Add salt and pressure cooker it for about 8-10 whistles on a high flame, till both the urad dal and rajma have cooked thoroughly and softened. If they are not cooked, then add about xbd cup water again and pressure cook for 4 to 5 whistles more. The urad dal should melt in the mouth and should not give any bite when eaten. It is very important to cook dal perfectly.

Once the pressure cooker is cooled down, check if the dal has been cooked. If yes, add milk and curd to the pressure cooker. Take a boil and keep it aside.

Heat butter in a kadhai. Add bay leaf and whole red chilies, saute for a while. Now add grated ginger, chopped green chili, crushed cardamon pods and saute for half a minute.

Add chopped onions and let it cook for about 5-10 minutes till they become transparent.

Once onions are cooked, add finely chopped tomatoes. You can use tomato puree too. Let tomatoes cook for about 5-10 minutes on low flame.

Add turmeric powder, red chili powder, garam masala and saute it well.

Once you see oil is separating from the tomatoes, add salt and switch off the gas.

Add this tomato-onion tadka to the pressure cooker which has urad dal and rajma.

Let the dal cook on a low flame for about 10-15 minutes. Add lemon juice, let it boil.

Now add fresh cream or malai. You can add according to your taste. Keep stirring on low flame for 5 minutes.

At this point, you can adjust the consistency of the dal. If you want it a bit runny, you can add water or milk and take a boil.

Lastly crush kasori meethi on top of it, sprinkle fresh coriander leaves. Mix well.

Serve hot with Naan, Kulcha, or Jeera Rice.