Looking for something to munch on over a Cup of Coffee? Something which is tasty, yummy and easy to make? Something which you can make and store in air tight jars? Okay.. What if I tell you, you can make it with very less Oil? Okay.. one last thing what if you can make it in Microwave in minutes?
*Please don't kill me*
Lets get into this- 😛
Answer to all the above questions is : Crispy Moong Dal Namkeen that too Haldiram Style! 😉
If you live in India or have your family or friends in India, you must have tried Haldiram's Namkeen somewhere or the other. Haldiram's has a huge variety of Namkeen and Sweets to choose from. One of their hot selling namkeen is Moong Dal. Everyone loves it as it is super crunchy and perfect for tea-time.
Usually we all get it from the local store or supermarket but then me and my Mom thought, why not give it a try and make this at home. And to our surprise it came out A-M-A-Z-I-N-G-L-Y well. Perfect in taste and super easy to make.
Lets get started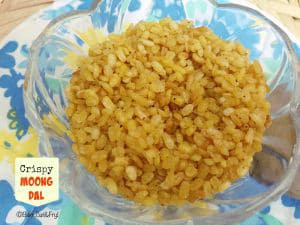 Take half a Katori of Moong Dal.

Wash it with water at-least 2-3 times, so that it is properly cleaned and no dirt is left.

Once cleaned, soak Moong Dal in clean water with baking soda at-least for 30 minutes. I have soaked it for one hour.

After an hour, drain out the water.

Dry the dal over a clean kitchen cloth. Spread it evenly so that it dries out completely. It is very important to dry the dal as much as possible.

Place the Moong Dal in a Microwave flat dish.

Drizzle a little oil, mix well and microwave it on high for about 8-10 minutes.

Keep checking after every 15-30 seconds. Toss and turn with spoon. We want it to cook evenly.

The Moong Dal will get crunchy after 8 minutes and it will change the colour too.

You can keep it for few more minutes, depending if you feel its not cooked.

Take it out. Let it dry for few minutes.

Sprinkle Salt, Black pepper powder and red chilli powder.

Store it in air tight jars and munch it with Garma-Garam Chai
Happy Microwave-ing! 😀
Cheers
Divya