Tikha Ganthiya or Gathiya is a crunchy and spicy deep fried strands made from gram flour dough. It's the perfect snack to munch on with a hot cup of tea. Generally these are deep fried but just to give it a twist, I tried baking them 😉 *Feeling so proud*
To my surprise, it came out really well and you can make in minutes. There are different varieties of Ganthiya/Namkeen available in the market. I have tried the basic one and just made it out of the gut feeling. :p
Let's get started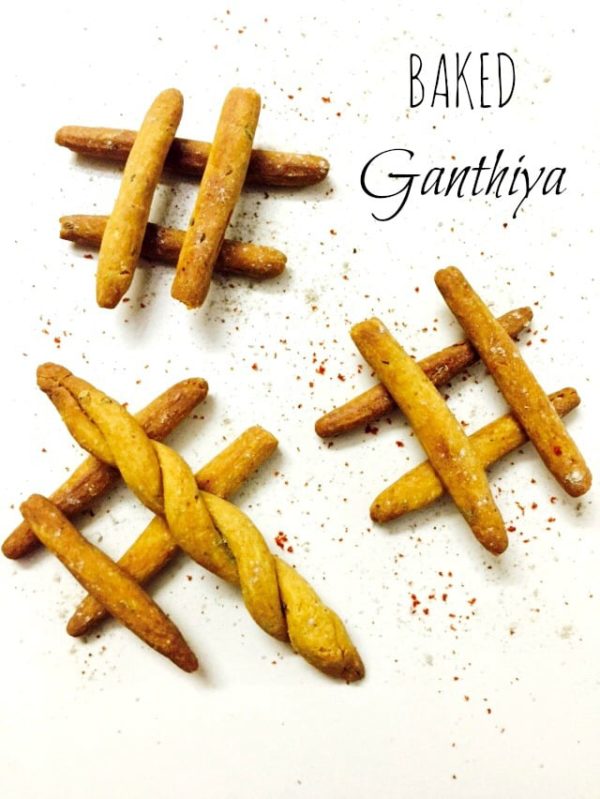 In a big mixing bowl, take Besan/ Gram flour.

Add all the spices and baking powder. Do not add chaat masala now.

Add oil and knead it a bit. The flour should bind together.

Now slowly add water to make a tight dough.

The dough should be smooth, neither too soft, not too tight.

Roll the dough into cylindrical shapes, or any shape of your choice.

Pre-heat Microwave for 10 minutes at 200 degree, on convection mode.

Place the gathiya rolls into the baking tray.

Bake it on convection at 180 degrees for 14 minutes.

After 14 minutes, turn the side and bake again for another 12-14 minutes at 180 degrees.

Every microwave is different, so timings may vary.

Once done, take them out. Sprinkle chaat masala and red chili powder

Once cooled, store them in air tight container.
Enjoy!
Happy Baking!