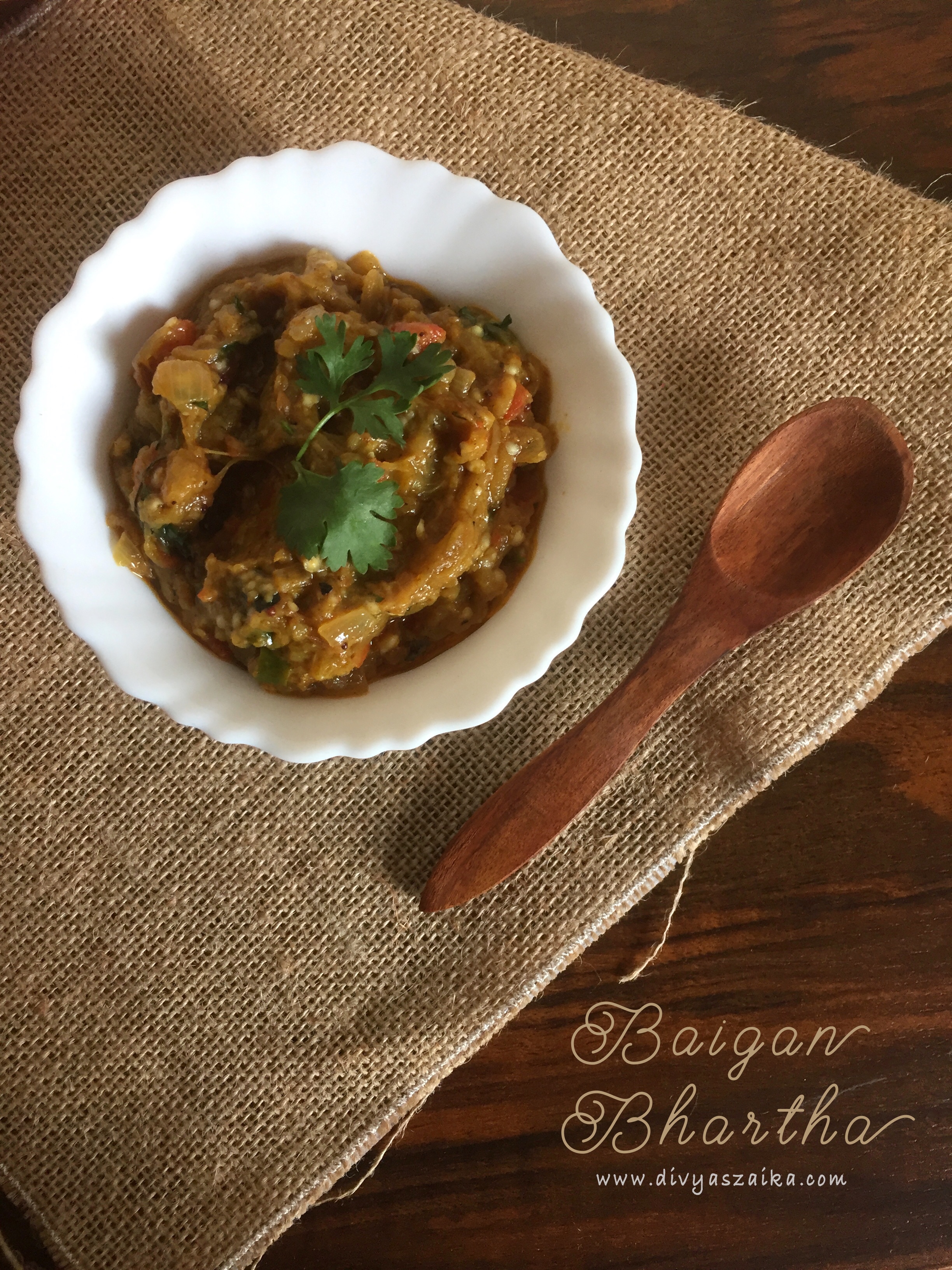 Baigan Bhartha or smoked eggplant is a traditional Indian recipe which is mostly eaten with Dal-Baati in North India/Rajasthan. It is an Indian dish in which eggplant or brinjal is cooked directly on the gas stove and then mixing it with a spicy tomato-onion masala. This is a traditional recipe which is spicy and has got the smokey flavor. You can roast the brinjal directly on the gas stove or you can opt for the traditional method where it is roasted on cow-dunk. OMG, it tastes yum and you can't stop licking your fingers.
I am not a huge fan of baigan or eggplant but baigan bhartha is an exception. I and my father love it to the core, guess I have got this liking from him. Making baigan bhartha is not that difficult but the tricky part is selecting the brinjals and cooking it on the gas stove and taking out the peel.
During winter, we prepare eggplant/brinjal as frequent as possible as it's a seasonal vegetable and hence tastes yummier and more nutritional. There are so many recipes for making Baigan Bhartha but the one I am writing is the Punjabi version where it is added to a spicy mixture of onion and tomatoes.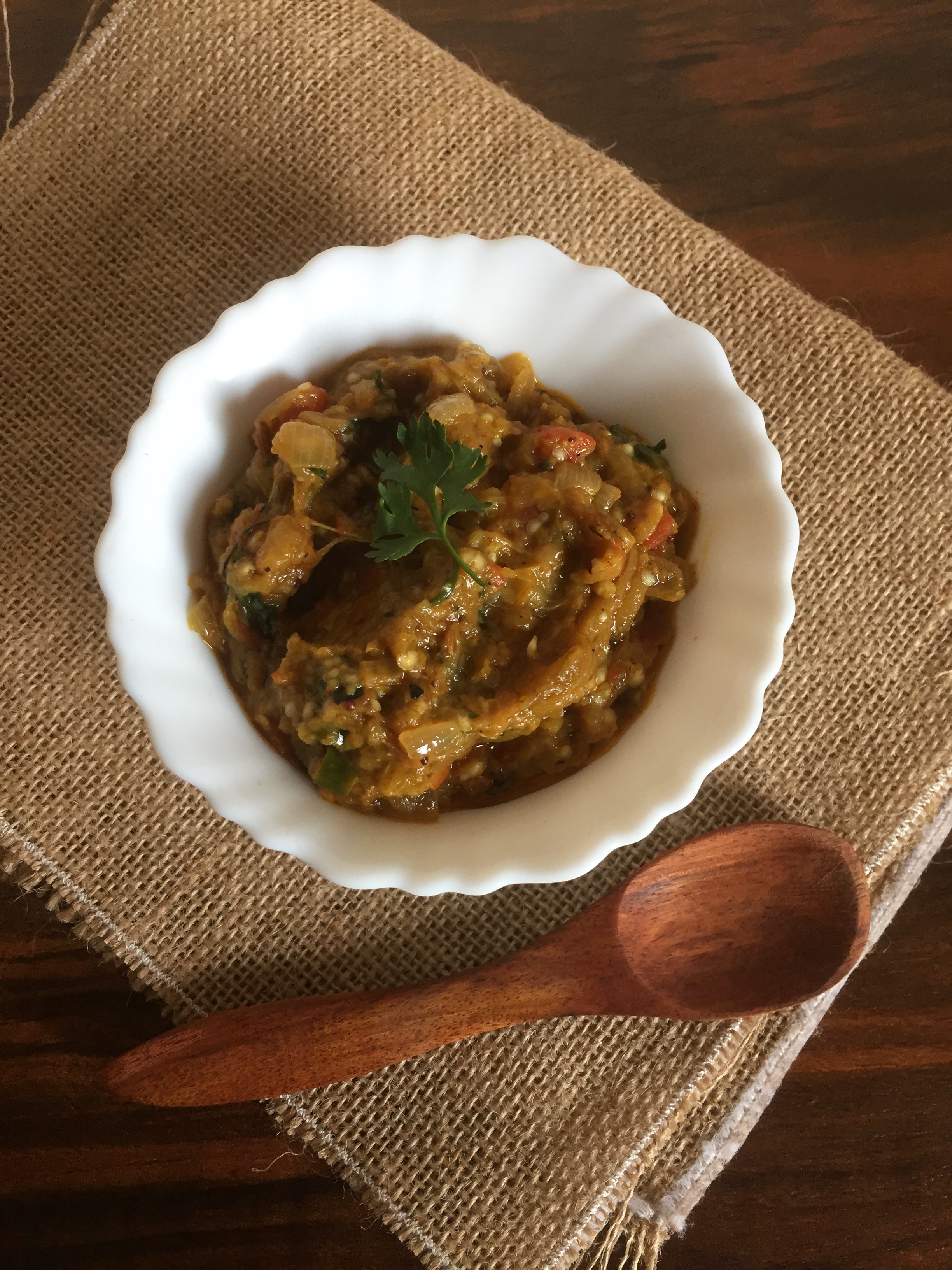 Tips for making the perfect Baigan Bhartha
To start with, always choose big plump size baigan that is purple in color and has fewer seeds. Also, the brinjal should weight less. It should not be heavy.
Roast them on the direct gas stove or even in an oven. You can slit them and insert garlic pods if you like garlic.
You can even apply on the outer covering of brinjal before putting it on the gas stove, but I usually avoid it.
To check whether the eggplant is cooked or not, insert a knife and if it passes easily, means it is done.
Once cold, remove the charred peel of the brinjal and look out for any worms or insects.
Mash it well and take out all the charred particles while mashing.
Let's get started with the recipe.
For more winter recipe, you can try Meethi Kebab, Meethi Malai Matar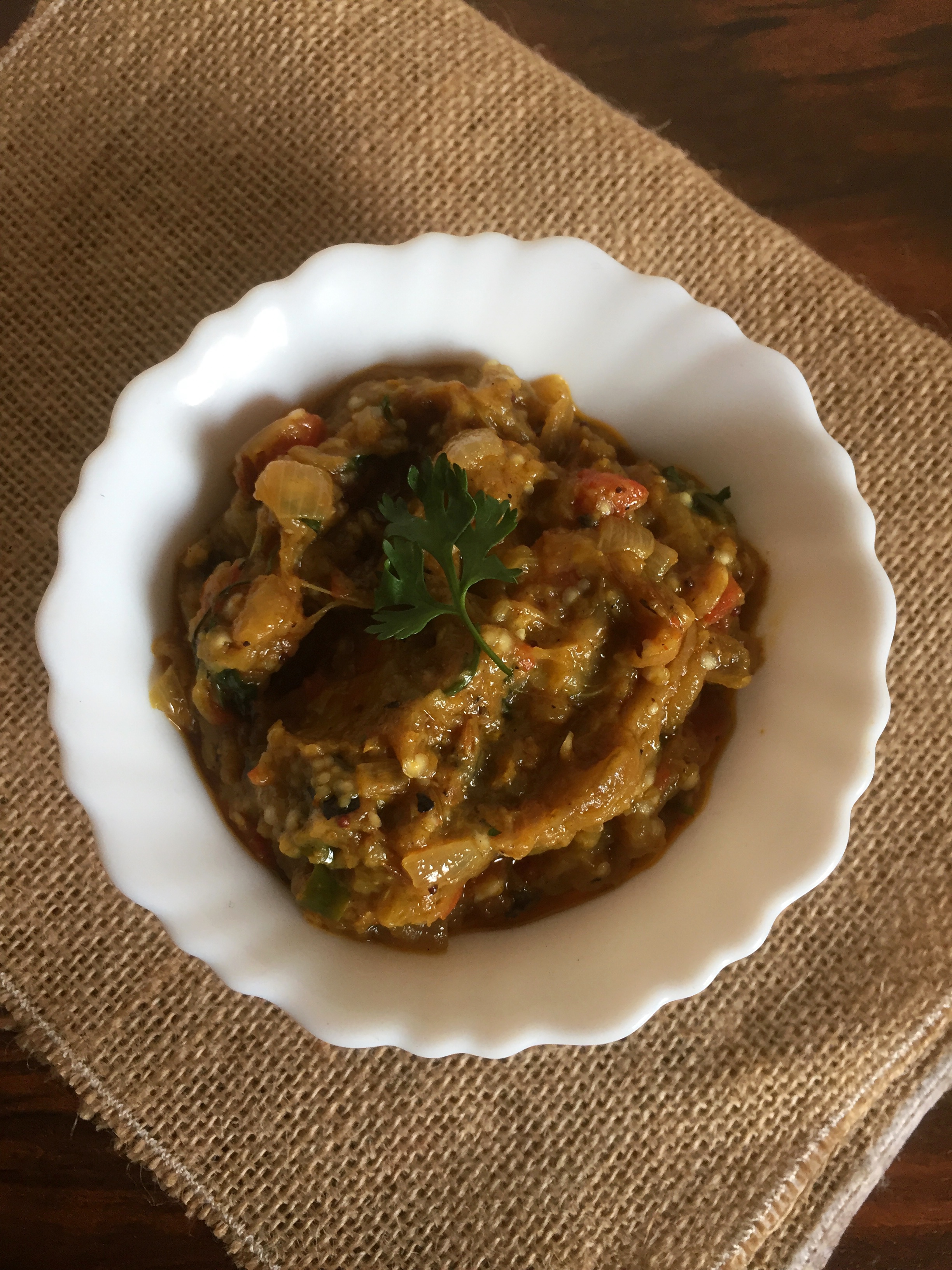 | | |
| --- | --- |
| | |
Wash the baigan and roast it on low flame directly on the gas stove.

Once done, you will see the brinjal is cooked and the skin has got darken in color. Also do a quick knife test.

Remove the peel of the brinjal and also, all the black charred skin from the eggplant. Mash it and keep it aside

Heat oil in a kadhai, add cumin seeds, mustard seeds, hing and chopped green chillies.

Add chopped onions and sauté. Let them cook for a minute and then add chopped tomatoes.

Cook the tomatoes and onions for atleast 2-3 minutes till they become a bit mushy. It's time to add all the masalas and mix. Add salt and mix well. Cook till tomatoes start releasing oil.

Finally add mashed brinjal and cook for another 1-2 minutes.

Voila! It's done. Add coriander leaves and serve hot.

You can serve it with roti, daal-baati or parathas.